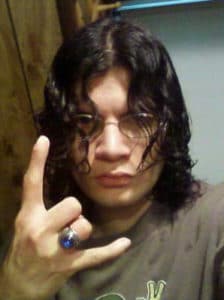 Yoshuane "Yoshi" David Torres, age 32, of Oneida, passed away Thursday, December 6, 2018. He was born on September 22, 1986, son of the late Juanita Martinez.
Yoshi is a member of the Assembly of God Church in Oneida.
He enjoyed fishing, working on his Jeep, visiting with friends and family, watching TV, chatting on Facebook, Legos, and watching wrestling.
Survivors include his brother: Felix "Pepe" (Amanda) Martinez-Doxtator; step-dad, Guillermo Gonzales; step-siblings: Tina Gonzales, Angel Gonzalez, William Gonzales; grandparents, Felix Martinez-Cuadrado and Cecilia Martinez Doxtator; nephew and nieces: Kayana, Armando, Juanito, Viviana, Amery, Kiaha, Tylee Jo, and Jace; many cousins, aunts, and uncles.
He was preceded in death by his mother, Juanita; great-grandparents: Michele and Cecilia Roberto, Juanita and Secundino Biaggi Martinez.
Visitation will take place at the Muehl-Boettcher Funeral Home, Seymour on Monday, December 10, 2018 from 4-8 PM with the Oneida Singers at 6:30 PM. Visitation will continue on Tuesday, December 11, 2018 at the Oneida Assembly of God Church from 9:30 AM until services at 11:00 AM with Rev. Lonnie Johnson officiating.  Burial will take place in the parish cemetery.
Online condolences may be expressed to Yoshi's family at www.muehlboettcher.com