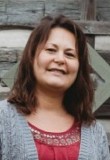 Julie A. Schweiner, 38, New Franken, passed away on Friday, November 23, 2018, after a lengthy battle with heart disease. She was born on August 20, 1980 in Green Bay to Cletus and Kathleen (Craanen) Webster. Julie graduated from Preble High School with the class of 1998. On May 17, 2003 she married Jason Schweiner at Trinity Lutheran Church in Green Bay. She worked in the law offices of Tom Camilli for several years as an administrative assistant. Julie then went on to attend NWTC and obtained her degree in accounting. She was currently employed at NEW Plastics in Luxemburg as an accountant. Julie enjoyed spending time with family and friends. She loved to travel and attend social gatherings. Julie will be remembered as a loving wife, mother, daughter, sister and friend.

She is survived by her loving husband, Jason; daughters, Abigail, Alayna and Madalyn; mother, Kathleen Webster; sister, Jennifer (Travis) Moldenhauer, and their children, T.J. and Brooke; brother, Joseph Webster; maternal grandfather, Clayton Craanen; father-in-law and mother-in-law, David and Joyce Schweiner; sisters-in-law, Nicole Schweiner, Jessica (Todd) Hope and their children, Katelyn, Kaylee and Kelsee; and many other relatives and friends.
She was preceded in death by her father, Cletus Webster; maternal grandmother, Ardella Craanen; paternal grandparents, Levi and Servilla Webster; and brothers, Jesse Hansen and James Webster.
Friends may call at the Proko-Wall Funeral Home, 1630 E. Mason St., on Thursday, November 29, 2018 from 3:00 to 7:00 PM. The Oneida Hymn Singers will perform at 6:30 PM. Visitation will continue on Friday, at Trinity Lutheran Church, 330 S. Broadway, from 9:30 AM until the time of service. Funeral service will begin at 11:00 AM Friday at the church with Rev. Rachel Knoke officiating. Online condolences may be expressed at www.prokowall.com.

In lieu of other expressions of sympathy, a memorial fund will be established.
The family would like to extend a heartfelt thank you to the entire staff of Froedtert Hospital, especially Dr. Mohammed for all of the care given through the years.
A special thank you to Stephanie, Beth and Julie's sister, Jenny for everything they did for Julie. Words cannot express our gratitude.
And finally to Kelly, thank you for always being there for me.
-Jason