ONHS Lady Thunderhawks head coach Jamie Betters (left) and assistant coach Lee Laster (right), seen here during the Lady T-Hawks 2017-2018 regional championship game against Gillett, have this season's squad aiming for nothing short of bringing home their first Marinette & Oconto Conference title.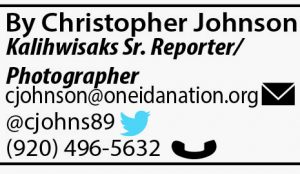 Oneida Nation High School Lady Thunderhawks basketball head coach Jamie Betters has lofty goals for her 2018-2019 squad. Following last season's exciting campaign that saw the ladies finish a close second in the Marinette & Oconto (M&O) Conference and host a playoff thriller against Gillett, Betters and the Lady T-Hawks are aiming for nothing short of a conference title.
"Last year was an amazing ride," Betters, now in her ninth season at the helm of the Lady Thunderhawks, said. "One of the things we've been hearing from the community is last season's regional championship game against Gillett was one of the most exciting high school games they've seen. We're really looking forward to using that momentum and really taking strides this year.
"We were one game away from that M&O title last season so that's what we're looking at," Betters said. "We have to take it one game at a time and our end goal is to get that conference title. We're always looking to put our girls in a successful position with playoff seedings as well so we can host regional games at home. So, we're very excited about the potential for all of that."
Championship-caliber basketball teams must be willing to put in the hard work to achieve their goals, and Betters has no doubt her ladies possess that drive. "They know they need to stay in condition off-season," Betters said. "They know they can't just show up on the first day of practice, try to get in shape, and think that's going to work. It's been really exciting to see more girls put the time in before the season."
Knowing this year's version of the Lady Thunderhawks returns largely intact from last season is an exciting prospect for third-year assistant coach Lee Laster. "It's really exciting that we didn't lose anybody to graduation from last year," Laster said. "We're bringing back the exact same team plus some new freshmen talent. We're still looking to run-and-gun this year and score a high volume of points. These girls are already working hard and giving 110 percent in these first few days of practice so we're really excited for the year."
The return of All-Conference players Yelih Rodriguez and M'Kenzey Ackley is expected to provide some additional leadership spark to a team that is already loaded with young talent. "We're coming back stronger this year than we were last season," Rodriguez, now in her senior season, said. "I'm glad these younger players are excited to get in the mix. Individually we're all good athletes but I think collectively we're going to mesh together really well. I expect to help lead the younger players so they don't feel so intimidated. Hopefully they'll be able to play at an even higher level next year than we will this year. But I'm really excited for this season because it's obvious they're dedicated and not one girl has dropped out."
"I expect our chemistry and trust in each other to be even stronger this year even though we played together last season," Ackley, now in her second season, said. "Our bond will be stronger than what it was last year. Some of the older girls really helped my confidence last season so I'm just glad I'm at that level now and I can compete. I plan on helping the younger players as well build that confidence I don't feel I had early on last year and just get out there and play ball. I expect everyone to encourage each other and keep pushing ourselves even if we feel like we can't keep going."
With most of the ladies having experienced the highs and lows of last season together, Betters anticipates seeing the team's all-around growth on full display early and often this season. "These same girls have a whole year under their belt playing together," Betters said. "Getting through some tough games together, and sometimes not getting through the tough games, should help them on the mental side as well as the physical side in understanding what the game brings you."
The Lady Thunderhawks begin M&O Conference play at home against St. Thomas Aquinas on Tuesday, Nov. 27, at 7:15 p.m. They then travel to Gillett on Monday, Dec. 3, before returning home to take on Crivitz on Thursday, Dec. 6, at 7:15 p.m.