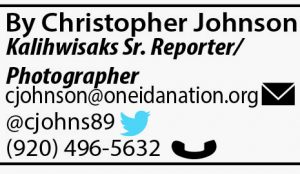 Oneida Nation-owned Bay Bank recently provided a construction loan for $2.765 million to Lac du Flambeau (LDF) Business Development Corporation for the financing of a new retail center on the Lac du Flambeau Reservation. The loan will provide the funding to remodel and expand their existing grocery store and bring other retail businesses owned by the tribe into the facility. Upon completion the new building will be 22,000 square feet in size and feature a modern grocery store and gas station. The project is in downtown Lac du Flambeau and will provide a hub for community interaction.
"One of the things Bay Bank has done in the past is reach out to the other tribes in Wisconsin to see if there were any projects they needed help with," Bay Bank President and CEO Jeff Bowman said. "It helps diversify our business and revenue for the bank, but it also speaks to the mission of the bank: Not only are we a community bank for Oneida and Green Bay but we're going to help the other tribes in Wisconsin as well. Having an Indian-friendly bank that's Indian-owned is a powerful tool to help facilitate economic development."
 "We value Bay Bank as a great partner," Darold Londo, LDF Business Development Corporation CEO, stated in a recent press release announcing the project. "They worked tirelessly to execute the transaction."
"Building a new retail center in the heart of Lac du Flambeau is another step towards tribal self-sustainability," Joseph Wildcat, Sr., President of the Lac du Flambeau Tribe, also stated in the press release.
Bay Bank utilized the Department of Interior's Indian Loan Guarantee Program to help secure the loan. "It makes the loan safer for the lender by putting a guarantee on it," Bowman said. "When you work with Indian Loan Guarantee you are working with another federal agency who has a native employee representative. In this case the regional representative is a White Earth Ojibwe working out of the Twin Cities. So not only is there a relationship between Bay Bank and Lac du Flambeau but we now we also have a partner with the loan guarantee program."
It's the cultivation of relationships like this one that has made Bay Bank such a success in Indian Country. "Oneida tribal members are truly the owners of the bank," Bowman said. "What they should know is we care about the Oneida community and we do a good job in our own back yard. But what they should also be proud of is the fact that the bank that they own is helping other tribal people in Wisconsin. We've helped effect change in tribal communities in Wisconsin, Minnesota, and Michigan.
"Oneida is a real pioneer," Bowman said. "Twenty-three years ago, this bank was launched and today there are only 18 banks in this entire country that are owned by tribes. Oneida was taking a step forward that no other tribes were doing. (Since then) we've evolved the bank to make sure we're profitable so that it lives for a long, long time. There's a social responsibility that goes with the uniqueness of being a tribally owned bank in that we can use our bank charter to help other tribal people in the Great Lakes area."
Some of the keys that have led to Bay Bank's success across the past 25 years is patience with customer lending and understanding tribal nuances when it comes to project development. "We've been working on this for more than two years," Bowman said. "Sometimes that's just the nature of tribal projects. You just have to be patient and we're going to be in here for the long haul. Sometimes conventional lenders get frustrated by the pace that tribal projects move at and they're not always willing to hang around and be in there for the long haul."
This project promises to be a game-changer for the Lac du Flambeau community and Bowman is proud that Bay Bank played a significant role. "They're consolidating three retail businesses under one centrally located roof," Bowman said. "They have a profitable gas station, grocery store, and smoke shop which they're going to be able to make even more efficient and offer more goods and services to their local community. But the real game-changer is that they're going to be able to reach outside their own tribal members and grow their non-tribal customer base. By expanding the building and bringing everything under one roof…. over time they're going to be able to increase all of their sales."
Because of its success with effecting change in Indian Country, Bowman and the Bay Bank staff have a message for the Oneida community. "Not only are we becoming really good at helping people in our own back yard but we're also becoming really good and skilled at helping other tribal people. If we don't try to help tribal people and communities, who else is going to do it? So, the Oneida community can be proud that we show other tribal communities that they're important. It makes sense, it's good business for the bank, and it helps other tribal communities realize their opportunities. We want to be known for doing the right thing."
For more information about Bay Bank please visit www.baybankgb.com or call (920) 490-7600.