Kali photo/Christopher Johnson
A lifelong love for the sport of boxing motivated Oneida Nation citizen Billy Pocan to open the Soaring Eagles Boxing Club in Green Bay to help underprivileged youth find a sense of belonging through the sport.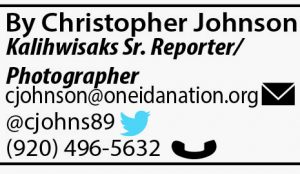 Billy Pocan has turned his lifelong love for the sport of boxing into a passion for helping area youth. Pocan, 35, is an Oneida Nation citizen who grew up being coached in the art of "the sweet science" by his uncle Joe Sweed.
"My uncle ran a boxing gym and he's the one who got me into boxing when I was young," Pocan said. "Ever since then boxing has been in my blood because my uncles and all my cousins were fighters, so I always wanted to start my own gym when I got older. I also boxed at (legendary boxing coach) Lou Askenette's Soaring Eagles Club in Oneida when I got older and he asked me to start coaching with him. So, I was coaching with Lou until he retired from boxing and I just kind of took over."
A little more than a year ago that dream of starting up his own gym became a reality with the opening of the Soaring Eagles Boxing Club on West Mason Street in Green Bay. And working with area youth was a big part of his plan. "A couple of other kids and I were troubled kids when we were growing up," Pocan said. "We had a coach, Roy Redhail, who was always there for us and helping us out. That really made me want to give back as I got older and help kids that want to get involved. So my wife Marissa, my business partner Ruben Ortiz, and I decided to open this club and help out kids. We kept the Soaring Eagles name as a sign of respect for Lou Askenette."
Waiving training fees for less fortunate children is one way Pocan often pays it forward. "We usually charge on a monthly basis," Pocan said. "But we also know that there are some families that can't afford it, so we don't sweat them about it. This is how a lot of people first find out about boxing. Not everybody plays basketball or football and they come here and suddenly they find that sense of belonging. And we're not just here for native kids or boys for that fact. We currently have 15 young people ranging in age from 10 to 23 years old from all backgrounds and walks of life as well as girls that come in."
Ruben Ortiz, Pocan's business partner, is currently working with Cover 2 Sports Management to develop more ways to help keep troubled kids off the streets and in the boxing gym. Cover 2 Sports is a life-skill development group that focuses on helping athletes make better choices in their lives and careers.
Pocan, Ortiz, and each of his boxers are registered and certified with USA Boxing which is the governing body for amateur boxing. "All coaches are required to go through background checks and pay yearly fees," Pocan said. "Boxers are required to pay yearly fees as well through USA Boxing which takes care of their insurance. Matches are arranged through a number of sources. I receive various emails and check online sources as well each week. I'm able to find matches throughout Wisconsin and Illinois and I can find all the national bouts on the USA Boxing website. I often get calls from other coaches in the region and we arrange bouts that way as well."
Across the past several years there has been a significantly sharper focus on safety awareness and protocols when it comes to contact sports, and boxing is no exception. USA Boxing requires all participants to wear protective headgear, a mouthpiece, and groin protection, but there is more. "We go through the exact same SafeSport Training that other sports organizations are required to go through," Pocan said. "We recertify every two years and we are trained to recognize concussions and things of that nature. The officials from USA Boxing are very much on top of this issue. For example if a boxer gets hit hard they will stop the bout and give him or her a standing eight count on the spot. If he or she gets hit hard again the referees will stop the match. They will not let somebody get knocked out."
With the Soaring Eagles Boxing Club as busy as ever, Pocan is in the process of arranging boxing tournaments that will hopefully take place soon in Green Bay. In the meantime, he's happy doing what he set out to do in the first place: helping local youth discover themselves within 'the sweet science'. "Hopefully some kids will grow to love this sport as much as I did growing up," Pocan said. "A lot of kids come in and end up absolutely loving it. We even have five Oneida girls and they all love it, too."
The legal minimum age for children to become involved with organized boxing is 8 years old. The Soaring Eagles Boxing Club is located at 1136 W. Mason St. in Green Bay. Parking is in the back lot of the strip mall. For more information about becoming involved with the Soaring Eagles Boxing Club feel free to contact Billy Pocan at (920) 264-8908.