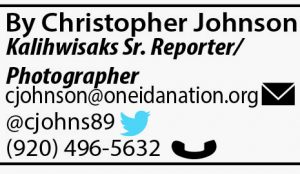 Oneida Nation Childcare Director Dorothy Skenandore, along with Oneida Head Start Program Manager Vicki Deer, are singing the praises of the Oneida Child Care Service Programs. This is after the Oneida Child Care building, as well as the Oneida Head Start section of the Norbert Hill Center, received financial assistance from the Child Care Development Fund (CCDF) for upgrades on child care playground equipment, resurfacing projects, as well as a partial building renovation.
"Due to health and safety reasons our playground equipment needed to be upgraded," Skenandore, who has worked with the childcare center for 35 years, said. "It was a collaborative effort between our department and the (Oneida Child Care Service) that Cheryl Vandenberg works for that made this happen. We were fortunate to work with them because there are a lot of child care centers out there that don't have this opportunity. Our children have what they have because of the CCDF and that's awesome."
The sixty-four children who utilize the Oneida Child Care Center range in age from six months to five years old. Prior to the recent upgrade, the childcare playground equipment and ground padding dated back to 1994.
Cheryl Vandenberg is the manager for the Oneida Child Care Service Programs which includes the CCDF. "Our area works with state and federal funds under the Economic Support Department," Vandenberg said. "We usually have partnership meetings with anybody in the tribe that works with children and we assess the community needs. In this instance we added the playground equipment to our list and made sure it was appropriate for our budget. Another future project on our radar for the Child Care Center is a restroom renovation."
The turnaround time between when the request was made for the playground upgrade and actual installation was about four months. That, however, was due more to last season's lengthy winter than any prolonged paperwork. "We actually had to wait for four months for the ground to thaw before we could get any of the equipment installed," Skenandore said. "But that was a really good turnaround.
"There are such good things happening with childcare and with this collaboration," Skenandore said. "It's wonderful to see the equipment get delivered and installed. The children see all of that too and get excited because they know it's going to be theirs."
Meanwhile, the Oneida Head Start Program facility located at Norbert Hill Center (NHC) received a needed renovation as well. The program, which used to be located upstairs, has now occupied the ground floor of the NHC since 2017.
"The biggest reasons for the move downstairs were safety reasons," Vicki Deer, Oneida Head Start Program manager, said. "We now have seventy-six kids in our program and it really used to bug me because we didn't have two exits to get out and the children also had to get on the buses at the top of the hill. With the Norbert Hill Center traffic flow as heavy as it is we were fortunate we never had any children get hit. One day our admin asked why we couldn't just move downstairs. Now we have exits all over the place, the parking is in the back, and it's simply much safer."
Interior renovations to the facility include restrooms connected to classrooms, an elevator upgrade, and new surveillance equipment. Playground upgrades included chipped rubber matting to soften falls. "What we have in there is okay because they need a good fall zone," Deer said. "What we're looking at for the future is the foam padding on the playground because it doesn't need to be replaced every year and it isn't messy.
"I honestly don't know what we'd do without the CCDF grant," Deer said. "We're kind of spoiled because (it helped us obtain) playground equipment, computers, new floors, field trips, and new kitchen equipment. I have to chalk all of that up to the CCDF grant.
With the retirement of Mary Motquin as the long time Oneida Child Care Services Manager two years ago, Deer said she is confident that Vandenberg will step into the role of CCDF grant writer nicely. "When I heard Mary was leaving, Cheryl was the first person who came to mind for me because she's diligent, ethical, and has a great work ethic," Deer said. "It's an invaluable program that encompasses our child respite care and so many other things. It's just so diverse."
"I'm beginning the process of writing the next three-year grant plan and it's going to be all new things," Vandenberg said. "We also work with Protective Services and Social Services, so we do a lot of work for the less fortunate children of our community.
"There are several areas that CCDF assists with," Vandenberg said. "My number one is health and safety. The other thing is to enhance the quality of child care and that's giving parents the opportunity to pick a child care that they want to attend regardless of cost. We also help parents make informed decisions about choosing a child care. These are the key areas that need to be focused on when applying for CCDF grants. This grant is an invaluable tool in helping achieve the overall goals of the Oneida Child Care Service Programs."
To find out more about the Oneida Nation Economic Support Services' Child Care Service Programs feel free to call (920) 490-3710 or email economic_support@oneidanation.org.