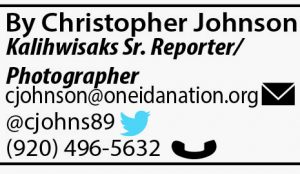 Oneida Nation citizens Sadie Kelley and Brylee King recently had the rare fortune of teaming up for the Wisconsin Interscholastic Athletic Association (WIAA) high school first-round regional golf tournament at Crystal Springs Golf Course in Seymour.
"(Both Sadie and Brylee) are number ones so this is unique having two native girls playing golf together so that's always a good thing," Lance Kelley, Sadie's father, said. "They've seen each other through the years but this is the first time they've played together."
Sadie, a junior at Pulaski High School, and Brylee, a senior at Seymour High School, were both top ranked contenders vying for 2018 WIAA State Tournament births this season. Sadie qualified for sectionals competition by scoring an 87 (second place overall) while Brylee also qualified by scoring a 98 (14th overall) during the regionals tournament on September 26.
Sadie was excited by the opportunity to team up with Brylee. "It was great because we've really started to become friends now that we're playing golf together," she said. "She's a year older and she's had some great tips for me. I'm really comfortable with her and we just love playing together."
Sadie's season started off strong but hit a rocky stretch. "It was nice because I started off very well but then I hit a mid-season slump," she said. "I finally got out of it and I'm forgetting about it and just focusing on sectionals."
Brylee came into her senior season ready to play. "As with any other sport there were ups and downs for me," she said. "With it being my senior year, I felt that I had to push myself harder and set a goal.  My goal was advancing to sectionals either with my team or individually after last season's upset. Advancing to sectionals felt great especially with Sadie being by my side."
"I am extremely proud of Brylee's golf season this year," Paula King, Brylee's mother, said. "She worked hard over the summer and it has paid off. I was happy to see Brylee and Sadie team up during regionals. They are very supportive of one another and I believe their close friendship helped them both last week. I wish them the best of luck at sectionals."
On Tuesday, Oct. 2, during sectional qualifications at Royal Scot Golf Club in New Franken, Sadie and Brylee tied for 14th place with scores of 91. Although they didn't qualify for WIAA State competition, both ladies are proud of the seasons they produced as well as the opportunity to team up.
Sadie is the daughter of Lance and Jennifer Hill-Kelley and Brylee is the daughter of Paula King.