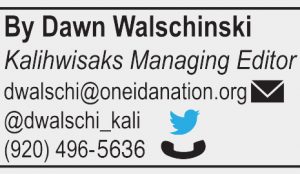 2018 Native American Music Awards (NAMA) nominee Wayne "Buggin" Malone usually uses his music to get people's hearts pumping. Usually.
Oneida Nation citizen Malone was doing a show at the state Las Palmas Nightclub in Wapato, Wash back in June.
"First show I've done in years, and during my performance, I end up jumping off the stage and bringing a guy back to life with CPR," said Malone. "He hit his head and he fell over and he ended up choking on his tongue, and nobody was helping the guy. I turned him over, I cleared his (air) passage and I gave him CPR, and I brought him back to life in the middle of my show."
Malone learned CPR as part of his duties as a gas station manager.
"I saved this guy's life which was a spiritual awakening for me," said Malone.
Malone is nominated for two NAMAs, also called Nammys: Best Rap Hip Hop Recording – Humanity Vol. 1, and best Music Video Recording (Narrative) – "Thrill Iz Gone."
Malone stated the rap song "Revolutionary Warriors" off Humanity Vol.1 was influenced by the Water is Life movement, and the protests against the Dakota Access pipeline.
"It's basically about our people uprising against the machine … for stealing our resources, fracking and our water," said Malone.
Malone was inspired by blues great B.B. King for his song and video "Thrill Iz Gone."
"I made the video for it which was a struggle and a half because I never made a video before," said Malone who wrote and directed the video at Winterland Studios in Minneapolis.
It's been 15 years since Malone's last Nammy win.
"I'm older now, I've been doing this for 25 years, and I wasn't too sure, so I submitted to the Nammys, I said I'm just going to see if I still got the juice, and I got nominated," he said.
The Nammys are open to Native American music artists from the United States and Canada in many different categories. Over 300 musicians submitted entries to this year's contest. People can vote for their favorite artists at https://www.nativeamericanmusicawards.com/vote-now until noon on October 12, 2018.  There are music samples and links to videos on the site.
"It's a big thing for us as Oneida people and our youth, that this is there for us to work for and get recognition and to be nominated for our hard work and efforts as musicians," said Malone.
Malone can be reached at his Facebook page, and his music can be purchased online at iTunes, Spotify, or other online music retailers.