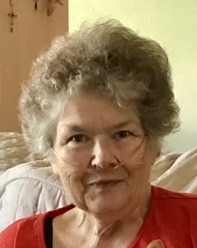 Geraldine E. (Vieau) Bopray passed away Saturday, September 22, 2018 at home surrounded by her fuzzy kids…DJ, Jer, Tiger, Bur and Epi. She was born August 2, 1943 in Green Bay, WI.
The daughter of the late, Orlando and Violet (Jordan) Vieau.
She married David J. Bopray August 5, 1961 and together they raised two beautiful daughters and many fuzzy friends!
Geri left us all too soon and she will forever be remembered as the mom who said, "I am doing my best". Geri was a second mom to many and a friend to all who passed through her doors …she will be deeply missed!
She is survived by her two children, two grandchildren and 5 great grandchildren.
During her journey Geri worked retail all of her life, to embrace her gift of gab. Working for 25 years at Prange Way, helping to open stores thru-out Wisconsin.  Her friendships with her coworkers have lasted many years after it's closing with yearly trips to Bay Grill for breakfast to brag about her kids and grandkids. She then worked at Oneida Retail Convenience stores for another 20 years and retired in 2012 to take care of her mother.
Geri belonged to the local Moose Lodge and the YWCA.
Those that will feel her loss are her 2 children, Angela (Jerry) Rausch and Andrea Cuene and Casey Cuene. Also feeling her loss are her two grandchildren, Mike (Jenny) Rausch and Sophia Violet Cuene and 5 great grandchildren.
She is survived by one brother, Ben Vieau and many from the Bopray and Vieau lineage. Special Friends Madonna Boulanger and Judy Knuth.
She is preceded in death by husband David J. Bopray and son David J. Bopray Jr. Granddaughter, Samantha Cuene, Brother Orlando (Lanny) Vieau, In-laws, Gay and Ruth Picard, Brother in law, Eric Bopray, Sister in law, Mary Bopray and Nephew Steven Bopray.
Her request was to have her body donated to the University Of Wisconsin Medical College to help future doctors in their education. (Geri's going to college!)
Friends may call at Ryan Funeral Home 305 N. Tenth Street, De Pere after 3:00PM Saturday September 29, 2018. The Oneida Hymn Singers will sing at 6:30PM, followed by a 7:00PM service with Fr. John Harper officiating. Please go to www.ryanfh.com to send online condolences to the family.
The family requests that in lieu of flowers a memorial be made to the Bay Area Humane Society.
Thank you to all those who have helped Geraldine during her last leg of her journey!
To Carol Silva, thank you for staying and keeping mom comfortable!