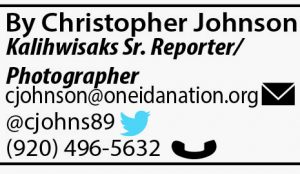 Kim Vigue spent more than 10 years in the Washington, D.C., area working for various native-owned consulting firms where she gained keen insight into how to serve native populations at the federal, state, and tribal levels. Gaining in-depth experience in public health and health communications, Vigue was highly encouraged to step out and start her own consulting firm when the time was right.
An Oneida Nation citizen, Vigue, 41, has close family and cultural connections to both the Oneida and Menominee Indian Tribes. Her mother is both Oneida and Menominee while her father is an enrolled Menominee tribal citizen. "This was why I chose Wolf River Consulting Group as our company name because it's the river that runs through the Menominee Reservation," Vigue said. "It has a real cultural and spiritual connection to the people there."
Following the retirement of her husband, Geoffrey Shank, as the Director of Interpol, their family relocated to the Chicago area. It was here that Vigue decided to pool her consulting experiences with Rose David and Jeanette Hassin and form Wolf River Consulting Group. Having worked together in Washington, D.C., on numerous projects, the three women have more than 20 years of combined experience and expertise in developing and implementing culturally appropriate communications.
"Leaving D.C. was difficult because it had been my home for 20 years," Vigue said. "I wanted to take all the things I had learned from people I worked with in D.C. and continue that. I had a really great working relationship with Rose and Jeanette in the past and we had also worked independently as consultants with various federal programs. So naturally the next step was to transition into business owner and manager. We had such a great friendship and business camaraderie that we knew working together on this, given our different backgrounds and work styles, would be a seamless transition."
Vigue is anxious to combine her learned experiences with her own cultural knowledge and apply them to Wolf River Consulting Group. She said the people working in various agencies she's familiar with had good intentions but there was a cultural disconnect. "They didn't always have native people working there," Vigue said. "The staffs that are in charge of native-related programs are very well-meaning and they're there to make a positive impact in the communities they serve. But they don't always understand the cultural nuances and don't always understand specific issues as they relate to self-determination and tribal sovereignty."
Having just launched one month ago, Wolf River Consulting Group is in the process of networking with various potential clients. In the future the company hopes to work with federal, state, non-profit, and for-profit clients and agencies that specifically serve tribal communities. Services being offered include communication programs like outreach campaigns and social media strategies as well as public affairs services like speech and media writing. Wolf River Consulting Group also helps clients make educated, evidence-driven decisions regarding specific programs, and training and technical assistance which includes data collection to enhance program utilization and sustainability.
"For example we might work with a healthy foods initiative through a non-profit group serving rural and urban native communities," Vigue said. "We would do the research and evaluations of your specific issue whether it's related to health, education, or some type of environmental impact issue. We would then work with them to get the word out about what is being researched. We then also offer them training and technical assistance which has a lot to do with grants, management, and competency training. So an agency or division might contact us to conduct training on how to work with tribal communities."
Vigue encourages young people who are contemplating a small business career to not be afraid to take chances. "When I was growing up my parents always encouraged us to go out and explore and see what the world has to offer," Vigue said. "Get out there and don't be afraid to ask a lot of questions or ask for help. Reach out to people you can learn from who can help you achieve your goals. I got to Washington, D.C., with the help of mentors so as a young person I had that support. It can be difficult making that leap emotionally and financially but don't be afraid take the chance."
Vigue and her husband reside in Chicago with their 7-year-old son Atticus and 5-year-old son Sebastian. She is the daughter of Bernadine and Bernard Vigue of Green Bay.
For more information about Wolf River Consulting Group, LLC, go to wolfriverconsulting.com or call (202) 271-9344.