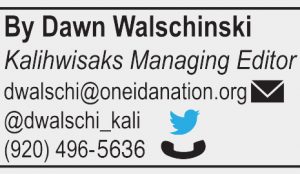 St. Norbert Collage Volleyball libero Jaisah Lee was surprised when she was named Midwest Conference Defensive Performer of the Week after the UW-Oshkosh Invitational.
"I didn't really know how good I was doing until I looked at the stats, and I was like 'oh, wow, that's pretty exciting.' I got All-Tournament there, too," she said.
Lee led the Green Knight defense as she posted three 20-plus dig performances, averaging 5.18 per set as she finished with a total of 86 digs at the tournament.
Lee has been playing volleyball since she was nine-years old. It's that experience that helps her on the court, according to her coach BJ Bryant who's known Lee from her club team days.
"She's a very instinctual player, she reads things very well, she has quick movements, and she's good at controlling the pace and tempo of what she's doing," Bryant said. "Lee really provides an extremely solid first contact for us on our team and really sets the tone for a lot of what we do offensively and defensively."
As a college senior, Lee is wrapping up her major in sociology with a human services concentration.
"I want to be a social worker. My aunt Alebra (Cornelius) is a social worker, and she really kind of touched me in how helpful she was for other people so I really want to do that for my own community," she said. Lee is an intern with Oneida Social Services.
"I think that's my favorite part, finally getting hands on work and more experience in what I want to do," she said. "I did a lot of research on Indian child welfare, and it kind of really surprised me that so many children lost their cultural component, and I find it's super important to keep Native American children within Native American homes."
She hopes to encourage other Native American youth to pursue higher education.
"(College) is different, you're not with all natives, and it's hard to connect with some people," Lee said. "It's hard, but you can do it. You can always turn to your friends and family for support."
"She's a great person to have around on the team. She is an introspective kid and is very thoughtful," Bryant said. "She's somebody that I think does a really good job of leading by example."
Lee is the daughter of Katsitsiyo and Redmon Danforth and Tom Lee.