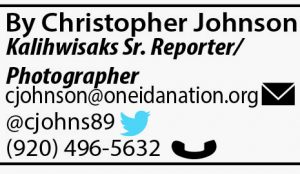 With the Oneida Nation Thunderhawks football team set to kick off their 2018 season on Friday, Aug. 17, on the road against Gibraltar, eighth-year Head Coach Bryan Peterson will be looking to get the most out of his squad that contains no seniors. "We lost a good amount of guys to graduation last year," Peterson said. "Unfortunately we lost virtually our entire offensive and defensive lines so we're teaching kids as we go. We're fortunate to have our All-Conference center Cruzito Montoya back but we're also looking to fill key skill positions as well. So there's been a lot of teaching going on in camp this year."
With the loss of All-State players Seth Charles and Damiano House to graduation, this is the perfect opportunity for the younger group of players to step up and shine. "We have a great battle going right now for the starting quarterback position between Kennedy Kaquatosh and Johnny Doxtator," Peterson said. "They're looking like juniors but they're doing all right. They need some fine tuning yet but we're definitely getting them there. Whichever of the two takes the reins as our signal caller means we'll move the other outside as our number one receiver."
Even though all of the players currently on the roster are underclassmen, they are not lacking game experience. "Most of our juniors coming back this year got playing time last year," Peterson said. "And running back Evan Danforth and defensive back/receiver Peyton Ponfil have actually started games for us. Bruce Funmaker played quite a bit at defensive back last year and has had a really good camp so far. But I think Cruz (Montoya) is going to be our best player because even as a sophomore last year he was one our top three. I think Kennedy has the ability to be an All-State type of player for us, so we just need to get him to buckle down and accept that role. So those are the guys I really think are going to step up this year."
With summer winding down, Peterson is hoping to get more players added to the roster once the academic year at the Oneida Nation High School (ONHS) begins. "We only have 11 players on the roster at the moment," Peterson said. "A lot of our guys have summer jobs so that's a contributor as to why our numbers are low but we always get reinforcements once the school year starts."
It's been a numbers game across the board in the Marinette, Oconto, Northern Lakes, and Packerland (MONLPC) 8-Man Conference. Bowler High School appears to have become a numbers casualty and will not field a team this year due to low player turnout. But that, Peterson said, may be a blessing in disguise for the young Thunderhawks squad. "We play week one on the road against Gibraltar and we were scheduled to play Bowler in week two," Peterson said. "So now with them pulling out we'll have a week two bye on our schedule before we get our reinforcements in. We're trying to push to get into the playoffs for the first time this year because we've never had an actual, true playoff."
This past offseason Peterson brought in a familiar face to help coach the young crop of new players. "We've brought back Jon Bradley as our defensive coordinator who I've worked with for a number of years," Peterson said. "So our defense will have a unique look to it that most people haven't gotten a look at. This is going to be a lot of fun to see how this develops. Hopefully Cruz, Lahsa Hill, and Ian Stevens will have dominant defensive seasons. We'll have Danforth and Ponfil at the corners, and of course Kaquatosh at linebacker, and we have a new player named Darian Wheelock who I also think is going to be an outstanding linebacker.
"If there are any players out there waiting for school to start to come out and play let's try and get them out there as soon as we can," Peterson said. "We would love to have them ready to go for our week three game against Wausaukee because that's a big school and a big game."
The T-Hawks open their regular season on the road against Gibraltar on Aug. 17 before their week two bye. They will then go on the road again to Wausaukee on Thursday, Aug. 30, before returning to Oneida for their home opener on Sept. 7 when they will square off against Sevastopol.