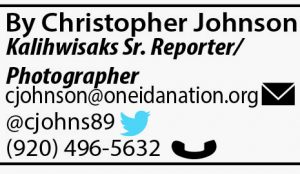 The Oneida Nation was proud to host hundreds of guests on Thursday, Aug. 9, at the Radisson Hotel & Conference Center to celebrate twenty-nine years since the enactment of Act 31 in Wisconsin. Act 31, which went into effect in 1989. Act 31 requires all public school districts and pre-service teacher programs to provide accurate instruction on the history, culture, and tribal sovereignty of all 11 American Indian Nations in Wisconsin.
Oneida drum group 'Wind Eagle' performed at the opening of the event and celebratory music was performed by Oneida's Music from Our Culture (MOC) Youth Singers while dinner was served. Oneida Nation Education and Training Area Manager Jennifer Hill-Kelley, who served as the Master of Ceremonies for the event, also presented Green Bay Area Public Schools Curriculum Coordinator Angela La Combe with a gift for being recognized as the 2018 Act 31 Champion.
Dr. Tony Evers, Wisconsin State Superintendent of Public Instruction, lauded the efforts of those that struggled to bring the legislation to fruition and the now clearly evident results. "We are seeing statewide graduation rates of American Indian children go from 67 percent in 2010 to almost 80 percent today," Evers said. "That's an extraordinary achievement and I do believe it's due (in part) to Act 31."
"The requirement of American Indian Studies in Wisconsin is critical to ensuring that all children have a holistic understanding of the significance of tribes throughout the United States and more specifically in our home state," Dr. Jolene Bowman, President of the National Indian Education Association and Vice President of the Stockbridge-Munsee Band of Mohicans, said.
The keynote speakers for the event, retired Oneida Nation Education and Training Area Manager Norbert Hill, Jr., and William "Bill" Gollnick, were also on hand to provide historical insight into America's true past and the impact of Act 31 on the Oneida Nation. Hill said parents need to continue to prepare their young students for the academic rigors of high school and college. "(Many of us) won't be here in 50 years but they will be," Hill said. "They'll have children and grandchildren. We need (to get them) to write about, talk about, and understand what it means to be native. You can't run from who you are or where you came from."
Gollnick has served in a variety of critical roles with the Oneida Nation for more than 30 years. "Act 31 became this hoard of activity," Gollnick said. "Developing content for teachers and student-teachers, developing materials and training, going before every forum we could…we found that many teachers were up to the challenge. They wanted to grow and learn and bring something forward to improve what we had in the old schools. Act 31 has been a positive contributor to a better central policy in the state. I look forward to the next step and the initiatives of our next generation."
Following the event Dr. J P Leary, Associate Professor of First Nations Studies, History, and Humanities at the University of Wisconsin-Green Bay, signed copies of his recently released book "The Story of Act 31: How Native History Came to Wisconsin Classrooms."