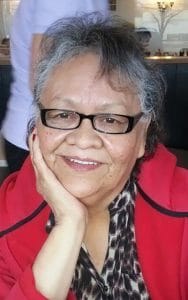 Glenda Jean Waubanascum, age 66 of Shawano, passed away on Monday, August 13, 2018 at her home. Glenda was born on September 26, 1951, in Shawano, daughter of the late Percy R. "Sonny Man" and Bertina M. (Archiquette) Dodge Waubanascum.  Glenda grew up in Neopit.  She moved to Chicago, IL in 1985 where she worked until returning to Shawano in 2000.   She was kind hearted and funny and had a contagious laugh.  Glenda enjoyed visiting with family and friends and traveled so often for visits that she was always away from home and hard to pin down.  If she wasn't gone, Glenda enjoyed following her friends and family on Facebook.  She loved her family and more than anything, loved spending time with her grandchildren.
Glenda is survived by: her three children, Tara Delarosa of Green Bay, Aulesia Martinez of Shawano and Robert Doge of Shawano; six grandchildren, Tara, Aaron, Tianna, Alejandro, Anaise and Analiah; five great-grandchildren, Analesia, Amiliana, Dallas, Talinah and Mariana.  She is further survived by her sisters and brothers, Sharon Bond, Bernadine Vigue, Sandra Fulwilder, Cheryl Dodge, LuAnne Waubanascum, Paula Howard, Gary Dodge, Preston Dodge and Duane Dodge.
She was preceded in death by her parents and three sisters, Patricia Tucker, Sylvia Dodge and Bobbi Lynn Dodge.
Funeral services for Glenda will be held at 10:30 am on Friday, August 17, 2018 at St. Anthony Catholic Church in Neopit with Fr. Joel Jores officiating. Visitation will be held at the Neopit Community Center on Thursday, August 16, 2018 from 4:30 pm until the time of the service on Friday.   A wake service will be held at 7:00 pm on Thursday.  Swedberg Funeral Home is assisting the family with the arrangements.