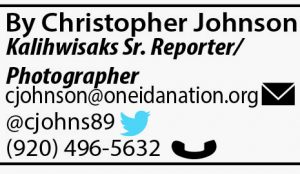 As a teenager who hailed from humble beginnings, Oneida Nation citizen Cherie (Jourdan) Koester had no idea when she became pregnant at the age of 15 that she would one day earn her master's degree and go on to start her own company that today has a strong presence in nine states. Koester, 39, had a lot of help along the way and she has no plans of slowing down.
"My mom was a single mother until she later met my step-dad," Koester said. "It was a pretty humble upbringing with her, my sister, and I. We lived in a trailer park in Krakow for a while, in Oconto Falls for a while, and in Green Bay. We finally got on our feet and landed in Suamico but I was already 14 years old by the time things started settling down for us. But truthfully, I was such a sassy teenager and I thank God my kids aren't anything like me."
When she became pregnant at the age of 15, Koester was completely unprepared for the challenges of parenthood and unaware of the resources available to assist her. "I wasn't very familiar with the Oneida lifestyle or services that were offered," Koester said. "The administration at Bay Port High School actually really helped keep me moving forward. They didn't want to see this turn into a teenage pregnancy failure story which was the likelihood. Bay Port High School was so good to me and helped me establish contacts within Oneida for assistance and showed me there were avenues that could help me."
One of the program areas within the Oneida Nation that stepped up to assist Koester was the Center for Self-Sufficiency. Part of the Governmental Services Division, the Center for Self-Sufficiency provided Koester with guidance on applying for various medical services and living expenses support.
"The odds that I was even going to graduate from high school was less than 40 percent," Koester said. "But I was able to accomplish that and I graduated from Bay Port High School in 1997. Then I began setting lofty goals which were to graduate from Northeast Wisconsin Technical College (NWTC), then attend the University of Wisconsin-Green Bay (UWGB), and then I was going to graduate from Arizona State University (ASU), and from there I was going to earn my master's degree."
Koester planned to accomplish all of her academic endeavors while working full-time and still fulfilling her duties as a parent. "The goal was always to get off the various assistance I was receiving," Koester said. "The idea was for me to be a big girl all on my own. I had three children by the age of 21, so I needed to be able to afford day care and a house."
The other tribal area that greatly impacted Koester was the Oneida Nation Higher Education Program. "My advisor at Higher Ed was Misty Herzog who was great," Koester said. "She made me feel important and like I wasn't just a number. She was so friendly and helpful and always made me feel like a human being. I can't thank her enough for all the help and support she provided me."
Koester eventually completed two associate degrees from NWTC in respiratory therapy and business administration credit while working full time in the slots department at the Oneida Casino. Her experience at the casino was a good one and provided her with excellent work skills. However, a stint in the working world after graduation didn't sit well with Koester. "I worked in the business world for a while and it was boring for me," Koester said. "I began looking for something else to do and I decided to enroll at UWGB in their Environmental Engineering program."
After two years in that program, Koester still didn't feel like she'd found her true self. Feeling the urge to experience life outside of Wisconsin, Koester made a dramatic move to the Southwest. "I transferred out to ASU in 2006," Koester said. "I was familiar with the area and it was a big school. I finished my bachelor's degree in Environmental Technology Management in 2010. From there I moved right into my master's degree which is in International Environmental Technology Management and Sustainability which I completed in 2012."
Her field of study covered a wide range of subject matter related to running, managing, and developing environmental programs or entities, Koester said. "While I was getting my master's degree I worked as an environmental regulator in Maricopa County, Arizona," Koester said. "I gained an understanding of how the Environmental Protection Agency (EPA), states, and municipalities worked."
This in turn led her to start Earthworks Environmental, LLC. A fast-growing company, Earthworks Environmental, LLC, helps other companies stay in compliance with environmental regulations concerning dust, storm water pollution prevention, and other safety regulations.
Four years into running Earthworks Environmental, LLC, Koester's company now has a strong presence in nine states including Arizona, Florida, Texas, Delaware, New Jersey, Pennsylvania, Indiana, Illinois, and Minnesota.
As a result of her business success, Koester was recently given a 2018 Most Influential Women in Business Award in Arizona. And she has some strong advice for young people who may be struggling with personal issues in their lives. "While experiencing my situation as a teen I felt like people looked at me as though I was going to fail," Koester said. "Every young person that's in a tough situation needs to realize that this will pass and you will grow up. You'll be an adult and you'll be able to make your own choices and do whatever it is you want to do.
"And if you're an Oneida member there is no excuse not to take advantage of the Higher Education program," Koester said. "Every Oneida member has the opportunity to go to school and if you do that you can do whatever it is you want to do with your life."
Koester has no intentions of slowing down her business expansion and she even has designs on helping other at-risk teens in the near future. "One of my goals for 2019 is to formulate a scholarship for a teen mother specifically for school or living expenses for school," Koester said. "I know it's difficult to apply for scholarships but I'd probably look for a recommendation perhaps through Oneida's Center for Self-Sufficiency. That department is so helpful and made me feel like a human being during my struggles so that's a definite possibility."
Koester splits residency between Phoenix, Ariz., and Chicago, Ill. She and her husband John have five children and one grandchild. She is the daughter of Thomas Jourdan, of Oneida, and Bernadette Goodine who also splits residency between Arizona, Indiana, and Green Bay.