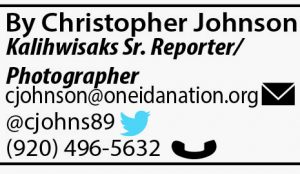 For Oneida Nation citizen Rose Kerstetter, pottery has been her lifelong passion. Kerstetter, who will turn 100 years of age on Sept. 5, has spent four decades helping restore the lost art of Oneida pottery and is doing her part to ensure it is never lost again. However, it was her years of service in the Women's Auxiliary Army Corps (WAAC) and Women's Army Corps (WAC) during World War II that solidified what it was she wanted, and didn't want, to do with her life.
"I was a stenographer and typist during those years and I was assigned to Headquarters at Camp Hood, Texas," Kerstetter said. "I was a staff sergeant and worked for a general who was an aid to the commanding officer of the whole camp. After my time in the service I came back to Oneida and married Lawrence Kerstetter. The one thing I knew when I came home was I didn't want to become a secretary because I knew they were treated very poorly."
The blended Kerstetter family would eventually make multiple moves around the Midwest, New England, and the Southwest beginning in the late 1940s. They had two children, Tom and Dori, together. Rose had another son, Joe Skenandore, from a previous relationship. "While we lived in Connecticut there was a television station that was accepting artwork from all their viewers," Kerstetter said. "So I made a clay diorama of an Iroquois longhouse and women making corn bread, skinning bear skin, and gathering wood. The women did all of that while the men hunted. I sent the diorama in to the station and forgot about it. Shortly after that somebody called me and asked if I'd seen the diorama on television at the introduction of a show. I nearly fell out of my chair. I was so proud of myself. This was when I first thought that I might have some talent and this was something I should pursue. It sure was better than typing."
In 1970, after living for nearly 20 years in Connecticut, the Kerstetter family left for the warmer, drier climate of Embudo, N.M., near Santa Fe. While in New Mexico, Kerstetter enrolled at the Institute of American Indian Arts in Santa Fe to work with ceramics. She earned her associate degree in fine arts at the age of 60. "That was when I made up my mind that I had to share with the Oneida people that we had made pottery long ago for cooking," Kerstetter said. "Our tribes made pottery to cook food in but we lost it around the time of the Revolutionary War because the Europeans were bringing these big black pots over that didn't break. When I came across my first Iroquois pot in a museum I couldn't take my eyes off of it. My grandmother, her grandmother, and her grandpa's grandmother made pottery that they cooked in. But today we don't know what they used in the clay to make it work. It's lost."
Even though she had been traveling to Oneida for several decades to visit and teach classes, it wasn't until the passing of her husband in 1990 that Kerstetter began contemplating returning home to Oneida for good. She moved to Albuquerque, N.M., for several years but didn't particularly care for it. "I never really liked living in Albuquerque," Kerstetter said. "The cement was always hot as you walked on it whether it was day or night."
So in 1997 Kerstetter packed up and returned permanently to Oneida with a strong sense of purpose. "I had something to share with our people about our history," Kerstetter said. "After I returned I began teaching classes at the Civic Center at night. Since the late 1970s I can't tell you how many people I've worked with and I still have people tell me that they were in my classes back then. It was fun."
Kerstetter also began teaching students individually. "I've taught several apprentices," Kerstetter said. "Ken Metoxen actually came to me when I was still living in New Mexico and that's what he's doing today. Jennifer Stevens was the second and she's just amazingly talented. Jacob Metoxen is a really excellent potter. The fourth is Barbara Webster and she's also amazing. The fifth is my grandson Ian Kerstetter who is on his way to becoming an art teacher."
"I met Rose in 1998 while in college studying to become a classical singer," Jennifer Stevens said. "She invited me to attend her pottery workshop and asked me to be her apprentice in 2001 under the Wisconsin Arts Board. She, among other Oneida potters, has contributed to the revitalization of Haudenosaunee pottery in one form or another.
"Rose had two dreams for me," Stevens said. "She groomed me to become a professional Iroquois potter and a Master Instructor. I'm now celebrating 20 years of creating Haudenosaunee pottery and more than 16 years of teaching pottery. Working with Rose inspired me to go to New York State and research Oneida pottery and bring our pottery designs back to our community. I've also developed an Oneida Pottery program. What an opportunity this is for cultural preservation through the arts."
"I learned the technique of hand building from other potters in the community," Barbara Webster said. "However, I'd take my completed pots to Rose for critique. It was an honor to take them to her because of her status as a Master Potter and I greatly valued her words of experience. She was gentle with her guiding words and she made it fun while she shared some of her early pottery building experience. She is dedicated to the art of our ancestral form and design and I feel the commitment from our interactions which continue to guide my pieces."
"I'm so proud of her," Dori Gilbert, Kerstetter's daughter, said. "I know she's not the first to do traditional pottery but I feel like she's a trail blazer because she's certainly one of the first to do that. I'm just amazed and astounded at her leadership in bringing back that art form."
Kerstetter has even been known to insert humor into situations where her own pottery didn't meet her personal expectations. "She would take what she considered mistakes and toss it into the back area of our property in New Mexico," Gilbert said. "So she knew she was tossing Iroquois pottery into a Southwest environment and she'd say things like, 'Someday this is really going to confuse the archeologists.' She absolutely loves archeology."
Thanks to Kerstetter's passion and desire to teach a piece of lost history to the Oneida people, the art of traditional Iroquois pottery has been brought home. "We will be able to continue to make pottery," Kerstetter said. "It's back and it's been reestablished in Oneida. I'm so happy we're able to take it back up after all these years. Even though it's in a changed form, and what we do with pots has changed, it's back. It's very pleasing to think about."