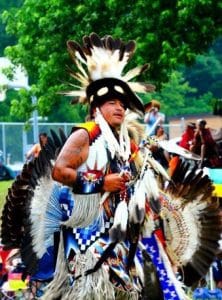 William "Bill" J. King, 42, Oneida, passed away peacefully on Wednesday July 18, 2018. He was born April 27, 1976 to Alan R. King and Mary Jane Pittman. He was a loving father to his five children; Yasiman, Leon, Floyd, Maicy, and Hudson. William worked for the Oneida Nation for over 20 years in the DPW. He loved spending time with his family, especially his children.  William was a Traditional Dancer, who enjoyed Pow Wowing, and coaching and watching his children play sports.
He is survived by his children, grandchildren; Noah, Willow, and Snowy.
His mother Mary Jane Pittman, his brothers; Alan King, Jeffrey King, Willard Johnson, and his Father Alan R. King also survive him. His Godson; Nicholas Metoxen, the mother of his children; Shannon Metoxen, a special Aunt Virginia Johnson, his sister Legacy King, as well as numerous nieces, nephews, cousins and friends also survive.
Friends may call at the Oneida Longhouse after 3:00PM Sunday July 22, 2018, with the Oneida Hymn Singers singing at 4:30PM. Visitation will continue until 9:00AM Monday when a procession will take William to the Oneida Sacred Burial Grounds for burial. Please go to www.ryanfh.com to send online condolences to the family. RYAN FUNERAL HOME, De Pere is assisting the family.
Special thanks to the staff, nurses and Doctor's at St. Vincent Hospital and DaVita Dialysis Center.