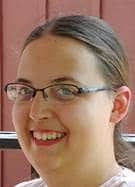 Emily Claire-Rose Tank, 27, of Oneida passed away unexpectedly on Saturday, June 30, 2018. She was born on April 23, 1991 a daughter of James Tank, Jr. and Donna Metoxen Tank.
She graduated with honors from Freedom High School in 2009. Emily worked at Burger King since she was 16, and was currently the breakfast shift manager.
Emily was a fan of all things Disney, especially Kingdom Hearts. She was also a Pokeman player and Pikachu lover.
Emily had an artistic ability that was ever creative and flowing. She could be found coloring, drawing, and doing craft projects whenever she had free time.
Emily loved her cats, and went to heaven with her dog, Bruiser. She was known as a very loving and caring person who went out of her way to help others.
Emily is survived by her father, James (Tina) Tank; brother, Daniel (Megan DeCoster) Tank; grandparents: James Sr. and Patricia Tank; aunts and uncles: Dale (Lynn) Metoxen and Terry (Lisa) Metoxen. Further survived by cousins, other relatives, and friends.
In addition to her mother, Donna (Alan Wieseler) Tank, she is preceded in death by her grandparents: William Jr. and Arlene Metoxen; great-grandparents; cousin, Joshua Webster.
Friends may call at Muehl-Boettcher Funeral Home, Seymour, on Friday, July 6, 2018 from 2:00 pm until the funeral service at 5:00 pm.
Online condolences to Emily's family may be expressed at www.muehlboettcher.com
Emily, we know that you and Al were greeted in heaven by mom. You will forever be in our hearts.