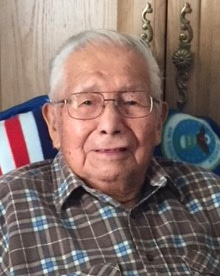 James C. Begay,"Pa Pa", 92, of Oneida, Wisconsin, passed away peacefully on Thursday, June 21, 2018 at Anna John Resident Centered Care Community. He was born on the Navajo Reservation; Fort Defiance, Arizona to Carl and Nasbah Begay.
James is survived by his beloved wife, June of 65 years; daughters Candace Walton (John) of Newberg, OR; Susan Wilson of Oneida, WI; Carla Di Salvo (Todd) of San Jose, CA; Joseph Begay (Donna) of Anchorage, AK; and numerous grandchildren and great grandchildren.
He is preceded in death by his eldest son, James Begay Jr., and Dennis Begay.
He was a loving father, husband, grandfather, great grandfather and friend to all.
He was a 20 year Marine Corps veteran who served proudly in WW II, Korea, and Vietnam. He repaired and drove the M26 Pershing medium duty tank during the Korean conflict. After his retirement from his military service, he moved his family to Campbell, CA and worked for FMC Corporation in the division that built the Bradley tank. He was a mechanic and then became a welder of this armored vehicle. After his retirement, he moved with his wife to Oneida, WI and had a home built to enjoy his years of retirement.
He took pleasure doing many things in life; traveling, gardening, tending the yard/home and a hobby of wood working which kept him busy. He enjoyed playing domino and laughing. His travels took him to see the marvelous sights of the U.S. He had a special place in his heart for his birth place and enjoyed visiting it when he had the opportunity. He also enjoyed visiting his children who resided out west. Once his youngest son moved to Anchorage, AK; he enjoyed vacationing there to fish and enjoy the pristine sights of that state.
He was a sweet, loving man who is known to the staff at Anna John's nursing home as "Pa Pa".. A special thank you to the nurses, CNA's, and other staff members for their loving care and support. Also, thank you to Muehl-Boettcher Funeral Home, the VFW of Oneida, and the LDS Church for all of the assistance in laying him to rest.
Visitation will be from 9:00 am until 11:00 am at The Church of Jesus Christ of Latter-Day Saints, Oneida on Monday, June 25th. Funeral services for James will follow. James will be laid to rest at the Oneida Cemetery immediately after the funeral services. Muehl-Boettcher Funeral Home, Seymour, is assisting the family with arrangements. Online condolences may be expressed to James's family at www.muehlboettcher.com