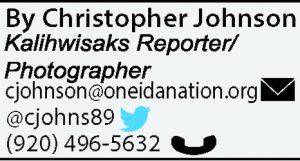 The Oneida Nation Thunderhawks have seen several of their student athletes excel in various sports this past school year. The latest to be added to that list now includes seniors Glen Fowler and Lorenz Jordan. With the unpredictable Wisconsin weather wreaking havoc on almost all spring prep sports schedules, Fowler and Lorenz were able to demonstrate their athleticism on the track field despite the shortened season and earn All-State recognition for the Oneida Nation High School (ONHS).
The 2018 WIAA State High School Track and Field Meet took place the weekend of June 1 on the campus of the University of Wisconsin-La Crosse.
Fowler, a multi-sport high school athlete who also played basketball, found success on the high jump this season. "I competed in the high jump in 8th grade so I've done it before," Fowler said. "I ended up liking it better than any other event and it felt pretty good making state this year because I didn't make it last year. "
Fowler, who will be attending the University of Wisconsin-Oshkosh next year and plans on pursuing track, was unable to compete at the state meet due to unforeseen circumstances.
Jordan, also a multi-sport athlete who participated in basketball and enjoys boxing, says he decided to join the track team because of the running. "Things went really well this year," Jordan, who competed in 3200 meter race, said. "We didn't have as many meets this year because of the snow but it felt good to make All-State. Boxing is my favorite sport so I used to run for training, and when the school got a track team I thought I'd try it out. I turned out to be pretty good at it."
Jordan, making his second All-State appearance for the Thunderhawks, finished with a time of 10:24 in the 3200 meter race. Jordan also plans on running track for St. Norbert College next year.
Second-year Oneida Nation Track and Field Coach Jacqui Jenkins has high praise for the two student athletes. "They're both great kids," Jenkins, who also teaches health at ONHS, said. "They've stayed healthy, they have great respect, and they both do well in school. They've been very dedicated in trying to get to state by doing their stretches, being at practices, and having fun with it. I am proud of Glen and Lorenz's hard work throughout the season and I wish them the best of luck in future academics and athletics.
Jenkins is glad Fowler and Jordan were able to receive the All-State honors despite a season that saw more than half of their scheduled meets cancelled. "This season was hard on everybody because all spring sports were affected," Jenkins said. "I don't think our track athletes got to go to their full potential overall this year but both Glen and Lorenz set personal records in their respective events.