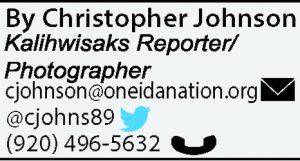 With the second installment of the Thornberry Creek Ladies Professional Golf Association (LPGA) Classic a little more than three weeks away, LPGA officials and last year's defending tournament champion Katherine Kirk were on hand for media day at Thornberry Creek at Oneida on May 5.
"This is very exciting," Kirk said. "I have nothing but great memories from being in Oneida last year and I'm looking forward to coming back in (July) to get it going again."
Winner of the inaugural Sky Woman Trophy, Kirk has a special place in her home for last year's tournament trophy. "It's very proudly displayed in the rec room on my wet bar," Kirk said. "It definitely gets a lot of attention."
More than 62,000 spectators watched Kirk win the 2017 Thornberry Creek LPGA Classic and tournament officials anticipate an even better turnout for this year's event.
Despite the late spring snow activity in the area, the Thornberry Creek at Oneida golf course conditions are great. "After that big snow fall it's been absolutely beautiful outside," Josh Doxtator, Chief Operating Officer of Thornberry Creek at Oneida, said. "There hasn't been a lot of precipitation and the golf course is in unbelievable shape."
The 2018 Thornberry Creek LPGA Classic gets underway July 3-8 as 144 of the best female golfers in the world come together to compete for the Sky Woman Trophy and a $2 million purse.