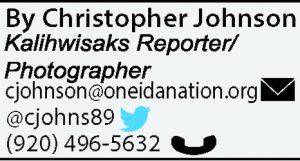 The Oneida Nation's economic impact in Brown and Outagamie Counties across a three-year period was shared at a press conference held on May 16 at the Norbert Hill Center. The study, conducted by St. Norbert College, revealed the tribe is annually responsible for about $744 million in output, $214 million in compensation, and 5,465 jobs.
"The Oneida Nation has been in Wisconsin for nearly 200 years," Oneida Nation Chairman Tehassi Hill said. "Fifty years ago Oneida's approved budget was $360 and unemployment was disproportionately high. So that's (how far) we've come in our recent history. Over the past 50 years we've experienced a phenomenal economic growth."
The Oneida Nation is responsible for 2.7 percent of gross regional product, 1.4 percent of employee compensation, and 1.7 percent of jobs in the two counties, Hill said. "Our success has been measured economically," Hill said. "But most importantly it shows the success of our economic partners in Northeast Wisconsin. Our customers, our vendors, and our neighbors have all contributed significantly to our success so we'd like to thank (all of them). Our institutions of higher education, our businesses, and our local and state governments have been great partners with the Oneida Nation so that we've been able to have this economic impact on the region and state. It helps us all when we're all thriving and participating in the economy and education."
The Oneida Nation generates an average of $89 million annually in government revenue with $33.4 million going to the local and state level. These amounts include, but are not limited to, income taxes, retirement taxes, property taxes, sales tax, and compact fees.
Marc Schaffer, Associate Professor of Economics at St. Norbert College, worked with the tribe on formulating this impact study. "Our team looked specifically at the impact in Brown and Outagamie Counties which makes sense given the geographical footprint of the Oneida Nation," Schaffer said. "We looked at education, government services, health care, housing, human services, internal services and public services. The Oneida Nation is easily in the top three respective employers in both counties, and it's worth noting as an added benefit that 44 percent of their employees are non-tribal members."
By far the largest contributions to the regional economy come directly from the tribe's economic enterprises. Agriculture, construction companies, engineering companies, financial services, gaming, hotels, recreation, as well as a host of retail establishments are the driving factors behind the Oneida Nation's financial success, Shaffer said.
Health care and education services are also key factors in the tribe's regional impact. "A host of activities including child care, head start programs, cultural education programs, tribal schools as well as efforts in Higher Education scholarships are all noteworthy effects," Shaffer said. "From my perspective the Oneida Nation provides a tremendous amount to the community and as an economist the positive (aspects) that come out of this are significant when you also look at the social aspects that they bring to the community."