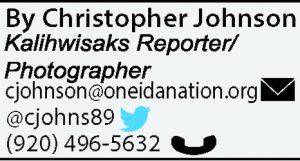 The Oneida Lady Thunderhawks softball team has a new shot caller for the weather-shortened 2017 season. First year Head Coach Brad Skenandore takes over for Muriel King who remains with the team in an assistant coaching capacity along with Kathy Doxtater.
With this spring's weather wreaking havoc on prep sports schedules all over northeast Wisconsin, Skenandore won't have as much time as he'd like to evaluate his team's game talent but he's excited for the opportunity to kick off his coaching career. "This is my first head coaching job at any level," Skenandore said. "I've assisted a couple of Little League teams over the years and I know some of these girls from last year's summer program in Green Bay. Some of them convinced me to try for the position so I went for it and it worked out.
"We started practicing in mid-March and we've been going six days a week, including Sundays, with two-hour practices," Skenandore said. "We were supposed to hit the mid-season mark last week but with all the snowfall we've had we have only been able to get outside for one week. So we've been trying to adjust as best we can and roll with the punches."
With his roster of 13 players Skenandore is still in the process of evaluating which players will play what positions on the diamond. "We're going to have everybody play as much as we can and see how the season goes," Skenandore said. "The girls are all open to playing wherever we put them so they truly are good overall team players."
"I've pretty much been playing second base the majority of the season," Natavia Adams, a freshman infielder, said. "I think we're doing pretty good so far. I can't guarantee a win every game but I think with the way our practices have been going, our motivation, and all the hard work we've been putting in I think we're going to do pretty well."
"I've been playing all over the infield," Junior Mercedes Ackley said. "I think we're going to keep improving as the season goes on. If any of your girls are into softball please let them play when they're young so we can keep this program going."
Junior Tiara Barber has spent a significant amount of time on the pitcher's mound for the Lady T-Hawks. "I've been pitching a lot and playing shortstop as well," Barber said. "I think we're going to keep improving as the season goes on because we're communicating more. Earlier on we weren't really talking to each other out there because we were nervous but once we got going things started to get better. As far as rivals go I really want to defeat Gillett this season because I've just always felt a higher level of competitiveness with them."
The truncated schedule for the Lady Thunderhawks now means they will play a seven game season instead of the usual 11. "One of the benefits of the shortened season is the fact that five of our remaining six games will be played right here at home," Skenandore said. "So if we can win out here at home we have a pretty good shot at taking the M&O Conference."
Skenandore has some very attainable expectations for the remainder of the season. "This is a program that just got restarted a few years ago," Skenandore said. "So the biggest thing I really want to see is improvement. The experience level of these girls ranges from those who have played since they were seven to some who have never touched a bat or ball. Since we don't have a feeder program some of these players are learning the fundamentals from the ground up.
"It's amazing how hard these girls work," Skenandore said. "From my experiences as an assistant coach in the past this is easily one of the hardest working groups I've ever seen. I fully anticipate steady, overall improvement which we can all be proud of."
The Lady Thunderhawks' next home games are scheduled for Thursday, May 3, against Niagara and Thursday, May 10, versus Coleman.