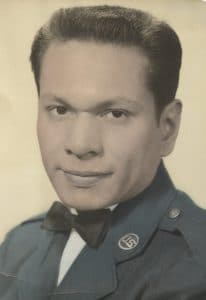 Ben Jahn, age 84, of Oneida, passed away on Sunday, April 15, 2018 at Anna John Nursing Home.
He was born February 9, 1934, oldest son of the late Lomas and Nellie (Skenandore) John.
On December 25, 1960, he was united in marriage to Selma (Eib), who preceded him in death on March 19, 2017.
They had two daughters, Laura Jahn and Heather Evans of Albany, Oregon.
Ben served in the US Army and Air Force, retiring from active duty as MSgt after over 25 years in the Air Force. He served in various US bases and overseas—Iceland, Korea, Japan, Germany and the Philippines to name a few. After moving to Wisconsin, he became an active member of the VFW, Oneida Post 7784, along with his brother, Andrew "Andy" John. After moving into the Anna John Resident Centered Care nursing home, Andy made sure Ben was able to attend meetings and other events as often as he could. Ben recently became a Gold Legacy Life Member of the VFW and his name will be listed in Washington, DC.
In addition to his dedication to the military and his family, Ben was an avid musician and was active in various bands during and after the military, including the US Air Force Band. He played many instruments, but excelled on the tuba, baritone horn, trombone and bass guitar. He shared these talents with any city band he could, most recently the Allouez City Band. He was proud to know that his granddaughter, Kathryn (Kat) (Evans) Wylie, followed him in these pursuits, excelling on the same instruments.
Ben was never content to sit on his laurels. While in the Air Force, Ben submitted an essay with his answer to "What is an American?" his submission earned him the "Defender of Freedom Award". His ending paragraph included these words: "I am a representative of the people who had a part in shaping our country. We voluntarily served in all major wars. We met the Pilgrims. We aided George Washington. We helped raise the colors on Iwo Jima. I am an American Indian—one proud American!" After retiring from the Air Force, he went on to complete his education, and was awarded a Master of Science in Education through Southern Illinois University at Carbondale. He was always reading and never stopped learning.
People who knew Ben appreciated his surprising sense of humor. Once, when introduced to some people as a "full-blooded Indian", he corrected them by saying "not quite full-blooded—I donated a pint to the Red Cross yesterday".
He is survived by his daughters, Laura Jahn of Albany, Oregon; Heather and husband Darren Evans, also of Albany, Oregon; three grandchildren and two great-grandchildren. "Sonny" leaves behind his sisters, Clara Kerwin, and Cora John; his brothers: Andrew John and his wife, Lorrie; Tom John and his wife Adela, Earnest John, and Myron John and his wife Judy, all of Oneida; as well as several nieces, nephews and many cousins.
Friends may call at Riverside Baptist Church, 216 N. Main Street, Seymour, on Thursday, April 19, 2018, from 1:00 pm until the memorial service at 2:00 pm with Pastor Scotty Backhaus officiating. The Oneida VFW Post will conduct Military Honors. Light refreshments will be offered prior to the service.
Online condolence may be expressed for Ben's family at www.muehlboettcher.com
Muehl-Boettcher Funeral Home, Seymour is assisting the family with arrangements.