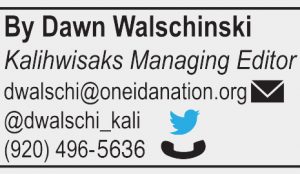 Rugby is a rough and tumble game, and brothers Josh and Matt Denny wouldn't want it any other way.
"The comradery is the best out of all the sports that I've ever played. The respect for the other team, like everybody helps each other. After every game you have a meal with the other team and get to know them," said Josh. "And it's fun to hit people."
"I like to play rugby because it's more constant. It's just going and going and going and going. There are no breaks in rugby," said Matt.
Josh, a junior at Southwest High School, started playing rugby his freshman year after not being able to play football due to a torn ACL.
"I was watching TV and just flipping channels and the rugby game was on. And it just so happens that one of my dad's friends coached this team, the Leprechauns, and it's all history from there," said Josh.
Josh missed a season of play due to injuries sustained in a car accident.
"I had to work really hard to come back from that," said Josh. "That was terrible."
Josh plays the hooker position, which is a forward, for the Green Bay area high school club team, and played for Badger Selects in a tournament in the Nashville Rugby National Tournament March 10-11.
"Getting on the selects team is a really good opportunity," said Josh. "We get (college) scouts from everywhere." He plans to play rugby in college, possibly at UW-Whitewater, Lindenwood University, or UW-Stout.
Josh says the key to playing rugby is mental toughness.
"You have to keep going when you think you can't go anymore. If you're running laps and you think you can't go anymore, you have to go that extra step, you got to eat right, you got to work out right, you really have to put all your time into it," he said.
Eighteen-year-old Matt plays the scrum-half position, which is like a quarterback.
"I like running a lot, the scrum-half runs a lot during rugby, so I like running and how fast it got me," he said.
Matt will play for the men's team Green Bay Celtics this summer. He plans on going to NWTC in the fall.
Their mother Jean Denny was a little worried about her sons playing this contact sport.
"It's scary at first because there is no padding, but there's such respect among the players that they don't take cheap shots, and I've seen less injuries playing ruby than I have with say football or other sports," she said. It's just such a tight knit family community, and they are always encouraging. The men will always come to help with the youth and the high school, it's amazing."