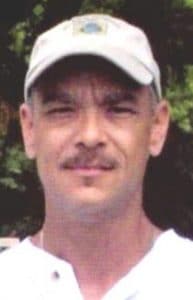 Jason Lewis, age 44, of Green Bay, passed away Thursday, March 15, 2018 at his home, surrounded by his family. He was born July 4, 1973 in Green Bay to Sheryl (Dan) Skenandore and Robin (Laura) John.
Jason and his friend, Robert Cadmus started Elf's Gifts, where Jason worked for many years as the CEO of the company.
Jason's passion was riding motorcycles. He also enjoyed camping and traveling with family and friends. His family will dearly miss his sense of humor. He used humor to lighten even the most difficult situations.
Jason is survived by his children, Andrew and Ariel Lewis and their mother, Marsha Tourtillott (and grandpa, Stanley Ostrenga); his parents, Sheryl (Dan) Skenandore and Robin (Laura) John; grandmother, June Janssen; brothers and sisters: Sheila (Nick) Pamonicutt, Little Robin John, Matthew John, Megan John, Michael John and Bailey Krause; special nephews: Joseph, Matthew, Shane and Nicholas; many aunts, uncles, other relatives and friends.
He was preceded in death by his grandparents Irving and Leona John.
Visitation will be held at Newcomer Cremations, Funerals & Receptions (340 S. Monroe Ave., Green Bay), Sunday, March 18, 2018 from 5 to 7 PM. A funeral service will follow at 7 PM. Burial will be in Oneida Sacred Burial Grounds. To leave an online condolence for the family, please visit www.NewcomerGreenBay.com.
Jason's family would like to extend a special thank you to Dr. Neu as well as the nurses at St. Vincent dialysis for their many years of excellent care and support.