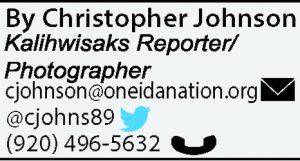 Oneida Nation High School seniors Seth Charles, Damiano House, and Devlyn Reiter have been named to the South 8-Man All-State football team for their outstanding play during the Thunderhawks 2017 season. All three players have been impact, four-year starters during their high school careers. T-Hawks Head Coach Bryan Peterson has also been tabbed as the offensive coordinator for the South Team in the All-State game which will be played on Saturday, July 21, in Oshkosh.
Several factors are considered before a player is nominated for the honor. "A lot goes into a player being selected to the All-State team," Peterson said. "It's not just about being good on the field. Of course their seasonal statistics are submitted but their off field stats such as grades and bench presses are also considered. It's a three-page document that is submitted on each player and then the Wisconsin Football Coaches Association (WFCA) selection panel reviews the paperwork and makes the final decisions.
"All three of these young men contributed on both sides of the ball but they were primarily offensive-focused," Peterson said. "This past season we moved Seth outside to receiver after our third game and moved Damiano to quarterback out of necessity. Our other receivers were young and weren't able to run the tough routes so we made that switch to get Seth, an experienced receiver, outside. As a result we also became a running team so Damiano became our guy at quarterback. Devlyn was a mainstay on our offensive line throughout his time here and he got to have more fun playing some tight end for us last year because he definitely earned it."
With the seasoned Charles playing receiver and a balanced running game to keep defenses honest, House was more than able to answer the bell at quarterback for the Thunderhawks. "Damiano ended up setting two state records this past year," Peterson said. "He ended up with the most all-purpose yards from scrimmage by a quarterback as well as the single game rushing record by a quarterback in our game against Menominee. He's a special kind of football player who can play at any level he wants. He's planning on playing college ball and I think he's going to do well."
"Making All-State feels amazing," House said. "I really loved playing quarterback because I had the ball more and was able to spread it around and do more for my team. Coach Peterson is the best because he taught me everything I know. I'm just really grateful to my mom, Coach Peterson, and all my teammates. I'm going to miss playing with these guys so I'm definitely looking at coming back at some point and helping out. They've all helped me grow as a person and a leader so I'm going to do my part to come back and help them in the future."
"Seth is one of my favorite kids I've ever coached," Peterson said. "He has a great personality, he's a great leader, and he's unselfish. With the position change this past season his numbers weren't what they could have been but over his career his numbers have earned him this honor. He's a great kid and he's always done everything we've ever asked of him. If we had eight Seth Charles' on the field we probably wouldn't lose a single game."
The switch to receiver didn't bother Charles at all. "I enjoyed playing quarterback but wide receiver was more exhilarating for me," Charles said. "I'm going to miss playing with all these guys. Making All-State is great and I'm hoping everybody comes out and supports us for the All-Star game. Be prepared because it's going to be a fun game."
Despite his large physical stature Reiter is not as vocal as Charles and House, yet he commands the same respect. "Devlyn is more of a quiet leader," Peterson said. "He doesn't say a lot but he works so hard and the younger kids emulate and follow him. In my opinion Devlyn's been the best lineman in our conference for the last two years. He stepped in at left tackle his freshmen year and has started every game for us there over that four year stretch. Fortunately we had enough big guys on the roster which allowed Devlyn to focus completely on offense instead of having to play both sides of the ball."
"I got to play some tight end last season but the offensive line was where I was good and where I belonged," Reiter said. "This is a great honor making All-State because football is my favorite sport. My dad taught me how to play and catch the ball and I grew up watching the Packers. It's been such an honor playing here these last four years and I'm really going to miss all these guys."
Peterson regrets the limited number of players that can be selected for the All-State team because he said the Thunderhawks had more players that were also deserving of the honor. "Tommy Kaquatosh and Nathan Ninham deserve to play in this game as well with the way they played last season," Peterson said. "With the selection process being what it is and the limited number of players on the All-State team it's unfortunate that we couldn't get everybody there that I feel deserved to be there."
Each player and coach selected to an All-State team is asked to raise donations for the game as the WFCA, which sponsors the game, has partnered with the Children's Hospital of Wisconsin. Each of the Oneida representatives are currently involved in individual fund raising efforts, and paper footballs are being sold at the Oneida Nation High School for $1 which can be hung on the school wall with the donor's name on it. Online donations are also being accepted in each of the player's names at www.chwevents.org.
"If people want to help out they can reach out to the three players and see if there's anything that can be done to help with their fundraising efforts," Peterson said. "Otherwise they can donate on the website and know this is all going for a good cause."