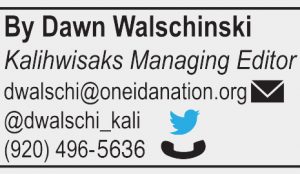 The partnership between Oneida and Northeast Wisconsin Technical Collage (NWTC) has been on display this month.
"We've developed a charter relationship with NWTC," said Oneida Nation High School (ONHS) Principal Artley Skenandore. "A part of that charter relationship calls for them to come directly to our community and ask our operations 'what do we see as critical needs.'"
NWTC, which is located on the northeast corner of the Oneida reservation, has been working with Oneida for almost 10 years by holding quarterly meetings.
NWTC President H. Jeffrey Rafn, Ph.D. and other staff met with Oneida leaders on Tuesday, March 6 to find out what Oneida likes and wants from the higher education entity. Oneida Higher Education Assistant Manager Mitch Metoxen noted that "you're our number one school for sending students."
"We get the opportunity to influence the design of some of their courses into the future with our input," said Skenandore.
Oneida Smoke Dancers were invited to kick off Celebrate Diversity Week on Monday, March 12. The group shared Oneida culture and history with students in the Commons. NWTC then hosted a discussion "Oneida Nation: Myths vs Realities" with students and staff. General Studies Instructor Lance Kelley and Oneida citizen Bob Van Schyndel conducted the presentation that ranged over many topics such as history and identity.
"These treaties that every nation signed throughout the last 200 plus years, I always say 'well, they're old treaties, yes they are, but so is the constitution, and we still live by that,'" Kelley explained to the attendees.
During the question and answer period, a woman asked "eventually, everyone just becomes Americans. How are you going to keep that all separate … it's all going away."
"Do we want a polyculture society? I do, do I want diverse people, or do I want everyone to melt all together to be kind of the same? … I like the salad bowl image better, that Oneida people can keep their culture," replied Van Schyndel.
One of the more solid results of the partnership is the new sugar shack build behind the Norbert Hill Center. The structure was built by NWTC construction students to give them real world work experience. ONHS students also got to participate in the process.
"We were able to identify that as one of their projects that they could utilize to teach their students construction management, and it allowed us to expose our students to the whole process of developing a project such as that," said Skenandore. "It's a relationship that we need to continue to cultivate not only because of the academic resources available to us, but the huge … value added workforce development … for our individual tribal members."