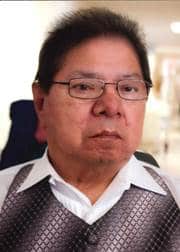 Tony E. Skenandore, 72, Oneida, passed away Friday March 2, 2018 surrounded by his family. He was born May 13, 1945 in Cook Co. Illinois and was raised by Henry and Cynthia (Metoxen) Skenandore. Tony played football at Freedom High School and went on to play semi – pro football for the Manitowoc Chiefs. He also enjoyed motorcycles and shiny black trucks. It was the time spent with family and friends that meant the most to him though.
He is survived by his children; Kevin (Lori) Skenandore, Joey (Tracy) Skenandore, Kelly (Kris) Holtz, and Tami Skenandore. His grandchildren; Nathan Lang , Taylor Skenandore, Sierra Skenandore, Kai Holtz, Kannyn Holtz, Jalyn Carter, Devon Carter, great granddaughter Elena Garcia, his partner Mary Pink, brother in law Edmund Kerker, nephew Ernie Kerker and numerous relatives and friends further survive Tony.
He was preceded in death by his parents, two sisters, Minnie Kerker, Marilyn Johnson and a brother, Richard Archiquette.
Friends may call at RYAN FUNERAL HOME 305N. Tenth Street, De Pere after 4:00PM Friday March 9, 2018. The Oneida Hymn Singers will sing at 6:30PM until time of service at 7:00Pm with Deacon Deborah Heckel officiating burial in the Oneida Sacred Burial Grounds. Please go to www.ryanfh.com to send online condolences to the family.
Special thanks to Anna John N.C.C. for all their care and concern.