Photo courtesy Wendy Alvarez
Wendy Alvarez (right) and her son Carson (left) during the recent holiday season. The family spends quality time together by volunteering in the community at various events like Oneida's Aquaponics project and Green Bay Botanical Garden's Garden of Lights.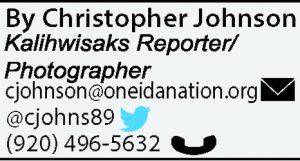 It's been an eventful journey in her 23 years of service to the Oneida Nation for Wendy Alvarez. Alvarez, an Oneida Nation citizen, has not only dedicated her career to the tribe but she also takes time out of her busy schedule to volunteer at the nation's Aquaponics project. Located at the Veterans Services Office in Oneida, the Aquaponics project is designed to provide fresh vegetables to the nation's school system as part of their Healthy Choices initiative.
"I began working for the tribe in April 1995," Alvarez said. "I've held various positions such as Administrative Assistant, Office Manager for the Enterprise Division, Employee Relations for Retail and Gaming, and most recently I've been the Personnel Services Manager for the Gaming Division. I recently saw an email from the Communications Department saying they were looking for volunteers to help out over at the Aquaponics greenhouse so I thought this would lead to some quality time with my son since we have a koi pond at home."
It seemed like a natural thing to volunteer at the Aqauponics project since Alvarez and her son Carson, 14, a freshman at Bay Port High School, enjoy taking care of the fish at their home. "He's helped me take care of them since he was two," Alvarez said. "We're always looking for things to do together so this was perfect timing since we both love doing that. We didn't know initially that this was going to be over at the Veterans Office so that is an added bonus that we get to help out over there as well."
Alvarez and her son help out every other Sunday for about an hour at the Aquaponics greenhouse by doing routine check-ups on the fish and cleaning. "We make sure the feeders are full," Alvarez said. "We place water in the tanks, we check the vegetables and make sure there aren't any bugs on them, and we clean out the filters. It's been a really fun time."
In addition to volunteering their time in Oneida, Alvarez and her son also participate in the March of Dimes Walk each year and volunteer at the Green Bay Botanical Garden. "This past year we volunteered for six shifts at the Garden of Lights," Alvarez said. "I just really enjoy doing a lot of volunteer work because the teen years are often a tough age to handle so it's great to be able to do these things with him before he starts to move off in a different direction."
"Volunteering is a great opportunity for people to find out what's happening in Oneida," Alvarez said. "We didn't even realize this was here so it's a really neat experience to see how this system works from beginning to end. I would highly recommend volunteering over here because it's really neat to see how this whole concept works and it's great for kids. It really doesn't take all that much time."