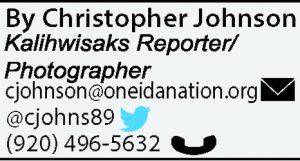 Not unlike many other kids his age Andrew Steinfeldt wasn't really sure what he wanted to do with his life after high school. Like thousands of other teenagers across the country he loved sports and dreamed of becoming a professional football player, but the 2010 Green Bay Southwest graduate eventually hit the University of Minnesota-Crookston campus where he realized that ambition was going to remain simply a dream. But he soon found his real calling in life.
Steinfeldt, 26, an Oneida Nation citizen and medical school student specializing in pediatrics, found his niche in college and now his years of hard work are about to pay off. "While I was growing up I was really into sports and I actually hated school," Steinfeldt said. "I got to Crookston on a football scholarship playing running back and receiver but I found out pretty quickly that I wasn't going to the NFL. But college was a really cool time to reinvent myself and I began exploring other interests I didn't know I had. I began taking science classes and talking to the faculty and the next thing I knew it evolved into my deciding to go to medical school."
Graduating in 2014 with a double major in health sciences and biology from UM-Crookston, Steinfeldt now found himself enrolled in medical school on the sprawling University of Wisconsin-Madison campus. "Arriving in Madison was quite a culture shock," Steinfeldt said. "It has a very large student body and my first two years here were very stressful because medical school is all book learning at that point. I often questioned whether or not I belonged because there were a lot of brilliant kids from Ivy League schools here but over time I figured out I did belong and we were all studying from the same books."
Steinfeldt found support on campus at the Native American Center for Health Professions (NACHP) from Oneida Nation citizen and NACHP community and academic support coordinator Melissa Metoxen. "That program's goals include exposing students and youth to the health care field and showing them that this is an option and that they're needed," Steinfeldt said. "Melissa has done a lot of outreach and helped us reach our goals by providing us with experience that was relevant to our futures. If I ever had any questions all I had to do was ask her and she was almost always able to make it happen."
As a result of that connection Steinfeldt was able to recently complete a month-long rotation at the Oneida Community Health Center in January. "I had the opportunity to work with Dr. Kennard for the majority of my rotation," Steinfeldt said. "I also had the chance to work with the other providers in the clinic and get a really good feel for what their practice is like. It was really eye opening for me and an amazing experience to get to work in all the different areas of care in Oneida."
Steinfeldt doesn't know just yet where employment will take him after graduation, but he knows it will be with his girlfriend Bridget who is also a pediatrics student. "I know at some point I want to work with native populations," Steinfeldt said. "But as pediatricians what we really want for the future is to help put kids in the best position to succeed. I've enjoyed giving talks to kids in schools about living healthy lifestyles and I just want them to have the positive mindset that they can accomplish whatever they set their minds to."
As for any advice he has for students considering a career in the health professions, Steinfeldt said never be too afraid to seek assistance. "Please know that you belong and you are needed," Steinfeldt said. "Don't be afraid to reach out to programs like NACHP and people like Melissa because they are more than willing to help you along the way and find your niche. Just know that this is going to be a challenging process and there will be times where you don't feel like you belong but you absolutely do belong. You are smart enough to make it through."
Steinfeldt will graduate from the UW-Madison School of Medicine in May 2018. He is the son of Harvey and Sue Steinfeldt of Oneida.