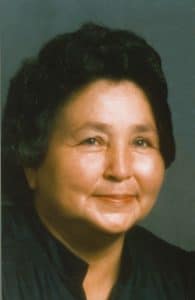 Caroleen M. Skenandore, 87, Oneida, died at home of natural causes on Wed., February 14, 2018 surrounded by her family. Caroleen was born on July 10, 1930 in Green Bay to the late Eastman and Ellen (Moore) Cornelius.
She married Norbert Skenandore on April 16, 1949 at Oneida Methodist Church in Oneida. Together they had a family of 12. Caroleen was a devoted wife and mother and taught her children strong family values and the importance of a hard work ethic. She always looked forward to family gatherings for holidays and special celebrations and instilled the importance and value of these traditions.
Caroleen was the Senior Citizen Coordinator for Epworth Hall for 12 years. She enjoyed making home-made arts and crafts, gardening and cooking for the community. She also enjoyed traveling with her husband Norbert in their retirement and spending time visiting with her family. She and her husband loved playing cards with family & friends.
Survivors include her children; Elaine Skenandore-Cornelius, Connie Vandehei, Carolyn Skenandore, Merlin Skenandore, Joanne (Leroy) King, Clyde (Shari) Skenandore, Darrell (Luann) Skenandore, Debbie Thundercloud, Brenda Skenandore and a special nephew Steve Skenandore, 37 grandchildren, 77 great grandchildren and 10 great great grandchildren.
Siblings include; Clyde Sr (Betty) Cornelius and Yvonne Honea; brother-in-law Lawrence (Mary) Skenandore and sister-in-law Jean Jarvis.
Caroleen was preceded in death by her husband, Norbert Skenandore Sr., her parents, a sister Leila Carson, a daughter, two sons; Norbert Skenandore Jr, and Marvin Skenandore, three grandsons, Kenneth Skenandore III, Merlin Skenandore Jr, Aaron King and four brothers-in-law; Clarence Skenandore, Glen Skenandore, Gordy Skenandore, Gerald Skenandore and one sister-in-law; Minnie Smith.
Family and friends may call after 4:00 to 7:00 PM on Sunday, February 18, 2018 at RYAN FUNERAL HOME & CREMATORY, 305 N. Tenth St, De Pere. Oneida Hymn Singers at 6:30 PM. Prayer Service at 7:00 PM. Visitation will continue on Monday, February 19, 2018 at Oneida Methodist Church, N6037 Cty Rd E, from 9:30 am until the Funeral Service at 11:00 AM with Pastor Dong Su Lee and Pastor Juan Alicea presiding, Oneida Hymn Singers at 10:30 AM. Please visit www.ryanfh.com to send a condolence to Caroleen's family.
The family would like to extend a special thanks to Joanne & Leroy for living with and caring for our Mother for the past sixteen years and to all the loving and compassionate staff at Heartland Hospice.