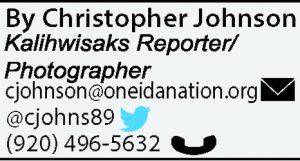 Oneida Nation citizen Joey Powless has experienced the impact that substance abuse has had on his life and the lives of his fellow tribal members. In his younger years Powless, now 36, abused alcohol and illicit drugs so heavily that it led to multiple incarcerations. The story of how he became an addict is not so different from those told by so many others. It's how he became clean and sober and what he's doing to maintain that sobriety that makes his story unique.
"I've been clean and sober for five years now," Powless said. "While I was growing up I didn't have a close relationship with my mom and I didn't know what it was like to experience that love. As a result I held a lot of anger in my youth and grew up trying to be a tough guy and I ended up being mean and hurting other people. I sold drugs and became an alcoholic and an addict and got into a lot of legal trouble."
It was during one of his incarcerations in the county lockup that Powless decided he needed to change his life. "I got into a fight in jail because I was going through opiate withdrawals and I ended up getting thrown into solitary confinement for 40 days," Powless said. "The entire time I was in the hole I was dealing with that sickness and I just wanted to die. Withdrawal pains are nearly unbearable and you can feel it in your hair, your skin, your whole body. It took a good six months for all of that to clear out of me so I could reach the point that I was thinking clearly and I could ask myself what I really wanted to do."
Now that Powless had experienced the physical symptoms of detoxing, he knew he still had other life issues to deal with. "Looking back on that period of time it turns out detoxing was the easiest part," Powless said. "Straightening your life out is the true struggle. I'm grateful for my family who helped pick me up because they were there for me. They lived a traditional life and that's the direction I took. I was hungry for that life and my parents and uncles were all there to help teach me those things."
Powless makes clear he owes his sobriety to his journey back to the roots of Oneida's traditional language, culture, and teachings and not to the widely accepted forms of Alcohol and Other Drug Abuse (AODA) treatment programs. "You can tell a counselor all your problems and they'll give you suggestions or prescribe you something to deal with your depression or whatever it is you're dealing with," Powless said. "But that's another issue right there. They'll prescribe you something so you feel okay or you can cope. But once that pill doesn't work anymore the problem's still there and it's basically like putting a Band-Aid over an open wound."
With Powless shunning mainstream AODA recovery tactics, he openly advocates for Oneida Nation citizens who are struggling with addiction issues to return to their traditional language and culture to find their true selves. Holding a traditional sacred fire is one way to start on that road. "This isn't just any old fire where you sit around roasting marshmallows," Powless said. "This is our way of life. There are certain teachings and different protocols that go with a sacred fire and without it we wouldn't be alive. This is how we cooked our food and received heat and light. It took care of us all year-round which is why we call this our Grandpa fire.
"The fire has to be taken care of," Powless said. "That's how we are as Indian people. If you let the fire break down it can smolder out or it can get out of hand. Those are the teachings of the fire and when you are working with the fire you are also dealing with yourself as a person."
The reason substance abuse in general has hit the Native American community so hard is the lack of true identity, Powless said. "One factor that plays into Native people's downfall is they want to adopt other ways of life and these treatment facilities as the way to recovery. But you don't have to go outside the tribe to find your answers because the answers we need are right here in our language and in our culture. Without our language we don't have an identity so I encourage anybody who is struggling to get back to our language and our ways of life."
The cost of addiction to family members is also high. But it's a cost Powless says families will take on if they truly care. "Nobody wants to be an addict," Powless said. "But it reaches that point that you will sell your soul to get high. People will steal from family members to get high but it's usually materialistic things that can be replaced. I always ask people if they'd rather lose things that can be replaced or do you want to lose a loved one? It takes unconditional love to help an addict because they have very fragile spirits and they'll stay away if they sense they're not liked."
How to rid the Oneida community of the addiction problems is actually pretty easy, Powless said. "Within our language and culture are all the teachings and answers we need," Powless said. "We need to help one another. That's as simple as it gets. Show that compassion, love, and sincerity that's expressed in our thanksgiving address. Everything has a spirit and we're thankful people for all that we have."
For all that he has experienced in his life, Joey Powless' journey down the road of recovery has been his greatest adventure. And rather than let his mind dwindle in the mire of past mistakes, he owns his experiences and uses them to make himself a better human being. "I know what I did and what used to be like," Powless said. "I've made peace with that. I know why I'm here. I'm here to help people. I don't want recognition or praise. I just want to help people."
Powless' love for his culture is apparent as he addresses his fellow tribal members. "We have such a beautiful culture," Powless said. "Even our music is beautiful. It's not about killing or hurting others or the pursuit of money and greed. Be proud of who you are. Be proud of being a Native American."
One Response to The keys to Powless' recovery: Oneida language and culture
Crystal Hanson says: February 21, 2018 at 7:01 am

What an Inspiring and Wonderful Story! Thank you for Sharing! Stay Strong and be Proud Yaw^ko