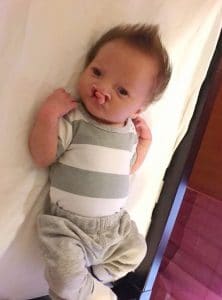 October 7, 2017 – February 10, 2018
 Jaimen Lou Johnson began his journey into this world on October 7, 2017.  His journey into the spirit world began on February 10, 2018. 
 We are very saddened by our little one's unexpected passing but know in our hearts he is at peace and in a better place.  His short presence on this earth will leave an everlasting footprint in the hearts and souls on all of us that were blessed with his life, especially his parents.
 Jaimen is preceded in death by his grandfather, Anthony Johnson.  He is survived by his parents, Victoria Powers and William Johnson, his big brother Javon Johnson, Grandparents Jessica Patterson (James Brisk), Charles Powers and Laurie LeMieux along with many aunts, uncles, cousins and great grandparents.
Friends may call at Ryan Funeral Home 305 N. Tenth Street, De Pere after 10:00AM Thursday February 15, 2018, until time of service at 1:00pm. Please go to www.ryanfh.com to send online condolences to the family.
 Our family expresses gratitude to Dr. Jensen, Dr. Hansen and Dr. Lamirand for their support and care of Jaimen during his time here with us.
 In lieu of flowers we ask that donations to Children's Hospital in Milwaukee be made in Jaimen's name.