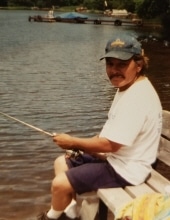 Vernon David Peters, 66, Green Bay, passed away on February 4, 2018. He was born on May 17, 1951 in Green Bay to Ruth Peters. He attended West De Pere high school and cooked at many restaurants over 25 years.
He enjoyed having a cold beer, spending time with his family, and creating and working on many different projects in the garage.
Vernon and Carol Hilgart were together for 22 years. He is survived by his daughter Katie Peters (Paul Sage), siblings Mona (Matt) Ellis, Toni (Brian)… Thomas, Ann Doxtator, Connie Cox, Steve Doxtator, Pam (Fred) Skube, Jerry Doxtator, Jim Doxtator and Patty Doxtator.
He was preceded in death by his mother, Ruth, and sister Carey Anderson.
Family and friends may visit at Ryan Funeral Home, 305 N Tenth Street, De Pere, from 10:00 AM to noon on Saturday, February 10, 2018.
The family would like to extend a special thank you to Katy and Heather from Heartland Hospice.
One Response to Peters, Vernon David
Nicole Peters says: February 7, 2018 at 10:25 pm

Carol and Katie so sorry to hear about Vernon