Picture: Old 29 Cafe' owner Dan Doyen and manager Carol Mullen display an array of menu dishes at the restaurant. Located at 5939 Old Hwy 29 in the Oneida Travel Center, Doyen promises patrons a great dining experience.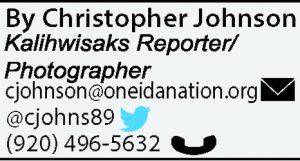 Barely three months into its existence, Old 29 Café is already beginning to make a positive name for itself within the Oneida community. That's because owner Dan Doyen is determined to deliver nothing less than outstanding food and top-notch service to his customers.
"Since we opened on Oct. 30, 2017, everything has been really encouraging because we've received outstanding support from the Oneida, Pittsfield, and Pulaski communities," Doyen said. "Our goal is to simply remain open and provide great food and customer service to our surrounding communities."
Outstanding customer service is vital to business success and Doyen has hand-picked a crew that provides exactly that. Head Cook Jannette Hall leads the charge on the weekends when demand is highest. "With Jannette on board I am very confident in our weekends," Doyen said. "During the week we have two more excellent cooks and our wait staff is second to none. People in the community know our staff and they come in just for their cooking. I also have my dear aunt Carol Mullen on my team who has owned restaurants in the past so I knew I had the right team assembled to go through with this."
Located in the Oneida Travel Center at 5929 Old Hwy 29, Old 29 Café currently serves a full breakfast and lunch menu complete with fresh scrambles, omelettes, biscuits and gravy, wraps, burgers and more. On Fridays the café hosts a perch and pollock fish fry which is every bit as delicious as any restaurant in the Green Bay and surrounding communities without the long wait to be seated. "We take great pride in our Friday Fish Fry as well as our broasted chicken on Friday, Saturday, and Sunday," Doyen said. "Our all you can eat Alaskan Pollock is $9.99 which is pretty cheap and it comes with your choice of potato and two side dishes. And then, of course, there's our fantastic perch plate.
"These ladies sure can bake," Doyen said. "All of our food is fresh and everything is homemade from our pies to our mashed potatoes and gravy. We pride ourselves in what we serve and we are not going to put bad food out there. You will be served good, quality food and it will be fast and hot. We're dialed in now so we're going to be ramping up our advertising so people know we're here."
If Doyen's long-term goals for Old 29 Café are successful, he will add a dinner menu, and possibly expand operations in the future. "If we can get to that level we'd like to expand and open a second location in downtown Oneida once those projects get started," Doyen said. "At the moment we really need a larger customer base to add a dinner menu so for the time being we're sticking with the breakfast and lunch menus which are served daily from 6 a.m. to 2 p.m. But as time goes on we're definitely going to be eager to add a dinner menu and stay open later."
The sky's the limit as far as potential for Old 29 Café is concerned and Doyen has no shortage of ideas for what the restaurant can accomplish. "We'd love to partner with Oneida's Marketing Department and get on the same page with them and the casino hours," Doyen said. "Their busy time is evenings on the weekends so why not work together with them and stay open at the same time? We're also exploring the possibility of adding a buffet and obtaining an alcohol license and maybe just start off with beer and wine. We'd like to see if we can create that demand and maybe have a Bloody Mary bar on the weekends. All these good things can come in time so we just need to get established first."
Doyen's immediate priority is getting the word out to the surrounding communities about Old 29 Café and its excellent menu and service. "Come on out and try our food because it's very good," Doyen said. "I'm a tribal member so come on over and support your local business. I strongly believe in shopping local and circulating it back in."
Old 29 Café is open Saturday through Thursday from 6 a.m. to 2 p.m. and Friday 6 a.m. to 7 p.m. For more information feel free to call (920) 865-2381 or visit them on Facebook at Old 29 Café.