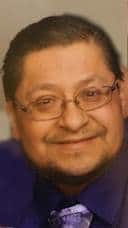 Daniel C. Jourdan, Sr., age 55, of Oneida, passed away on Thursday, January 25, 2018, after a battle with cancer.
He was born on December 3, 1962 to the late Norbert & Susan (Cooper) Jourdan, Sr.
Daniel worked for the Oneida Tribe for about 26 years. He was an honorary Oneida police officer.
He loved to spend time with his family. Together they went to the movies, went out to dinner, and stayed over-night at hotels, just for fun. They would spend summers traveling to Door County, Minnesota, Las Vegas as well as others. Daniel loved to travel and have cookouts, was an avid Packer fan and a fanatic of the Incredible Hulk.
Daniel's sense of humor will be missed by many. Even through his sickness he was able to continue to joke around and watch cartoons.
He is survived by his wife of 22 years, Tina; five children, Daniel Jr., Brandon, Jeremiah, Martina and Selena; siblings, Vicki Jourdan, Tom Jourdan, Mike (Kay) Jourdan, Betty Orley; nieces and nephews; step-father, Bill Rayme; sisters-in-law, Carolyn (Rendell) Miller, Samantha (Emmett) Skenandore, and Francine (Donald) Weaver.
He is preceded in death by his parents; brother, Norbert Jr.; three sisters, Marilyn, Donna and Mary Jourdan.
Visitation will be held from 1:00 pm until 4:00 pm on Wednesday, January 31, 2018, at Newcomer Green Bay Chapel, 340 S. Monroe Ave. A funeral service will be held at 4:00 pm on Wednesday.
The family would like to thank the staffs of St. Mary's Hospital Oncology Department, St. Vincent Hospital and Unity Hospice.