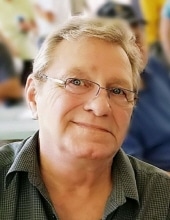 Ricky (Rick) R. Dickson, 68, Green Bay, passed away Wednesday, January 24, 2018 after a long battle with cancer with his loving wife, Barb, by his side. Born December 2, 1949 in Green Bay, Rick was the son of the late Ronald D. and Shirley A. (Hartleben) Dickson of Krakow, WI. He worked at various jobs in his life that included farming, truck driving, landscaping, and cab driving, just to name a few. On October 2, 1992 he married the love of his life, Barbara J. Powless-Miller and together they enjoyed 25 years of marriage.
Rick enjoyed resale and antique shopping with Barb, going out to eat on the weekends, collecting IH/Farmall toy tractors (If it isn't red, leave it in the shed!), and getting together with friends and family. He especially enjoyed time with his sister, Peggy, and brother-in-law, Norb, and going to their home.
He is survived by his wife, Barb; his mother, Shirley; mother-in-law, Blanche Powless; sister, Peggy (Norbert) Budz; 4 children, 2 step-children, and 8 grandchildren. He's also survived by 3 sisters-in-law, many nieces and nephews, an aunt and cousins.
He was preceded in death by his father, Ronald, paternal grandparents, David and Louise Dickson, maternal grandparents Maurice and Ann Hartleben, niece, Wendy A. Tisch, father-in-law, Deacon Edmund C. Powless and sister-in-law, Patricia, as well as 2 brothers-in-law, Doug and Corey.
Ricky was remembered at his funeral on Saturday, January 27th with Pastor Loretta Waegli and Deacon Debbie Heckel officiating.
In lieu of flowers, donations can be made in Rick's name to Unity Hospice. Please go to www.ryanfh.com to send online condolences to the family.
Special thanks to Green Bay Oncology and Drs. Warren, Bodsvarsen , and Jaslowski as well as Unity Hospice, Dr. Newman and all the staff of the Jack and Engrid Meng Hospice Residence for all the loving care and support given during the last few weeks.