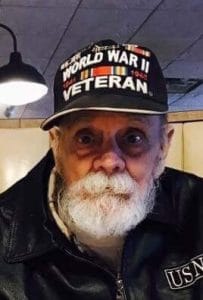 Lawrence A. Wilson "L.A.W.", 92, Oneida, passed away peacefully surrounded by his family on Wednesday January 17, 2018. He was born January 14, 1926 to the late Eugene and Betty Wilson. He was a proud veteran of the United States Navy, having served during WWII. Lawrence loved the outdoors, especially hunting and fishing, car shows, and long car rides, camping, taking in stray animals, and hanging with his best friend (Dog) Paco.
He is survived by his children; Larry (Barb), Vickey, Daniel, Debra (Jim), Diane, Errol, Pam (Johnie), Colleen, Dorothy (Paul), as well as many grandchildren, great grandchildren, and great great grandchildren, and 6 siblings; Harold, Erv, Scott, Lorraine, Darlene, and Mary.
He was preceded in death by his wife Pauline, 2 sons; Lester and Dale, and 2 brothers; Wayne and Vern.
Friends may call at RYAN FUNERAL HOME 305 N. Tenth Street, De Pere from 6:00PM – 8: 00PM Tuesday January 23, 2018. Visitation will continue after 10 :00AM Wednesday at the funeral home, until time of service at 12:00PM with Pastor Lonnie Johnson officiating. Full military rites to follow. Burial will take place immediately following in the Pembine Cemetery. Please go to www.ryanfh.com to send online condolences to the family.