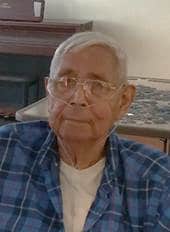 Dean Smith, 86 of AZ, passed away peacefully January 7, 2018 at the AZ State Veteran Home in Tucson. The son of the late Milton and Marena (Doxtator) Smith was born June 2, 1931 in Oneida, WI.  Dean, a veteran of the Korean Conflict, served in the US Air Force from 1955 to 1960.  Golf, playing cards and Scrabble were his favorite past times.
He is survived by his wife Jean, sister Alfreda Green, sister and brother in law Rebecca and Eldred Nicholas, sisters in law Judy John, and Carol (Erwin) Smith, plus numerous nieces, nephews, and cousins.
Dean was preceded in death by his parents, siblings Vernon Smith, Hamilton Smith, Spencer Smith, Dorothy Talkenson, of Lac du Flambeau; Edith Reed, Milton Smith Jr., Sylvester "Big Sal" Smith, Priscilla A Smith, Erwin Smith, Raymond "Robin" Smith, and brother in law Allen Green of Oneida.
Memorial Service and Burial will be at the Oneida United Methodist Church in the Spring.