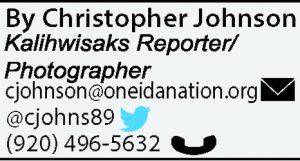 Oneida Emergency Food Pantry Manager Marlon Skenandore has been hard at work ensuring community members in need of food and various household items such as toiletries and toothbrushes can receive support.
"We will pretty much take anything," Skenandore said. "People have even asked if we accept dog food and cat food. By all means drop it off because we will find people that absolutely need those items. We are also in the process of trying to get ahold of those various toiletries and toothbrushes as well."
Since opening in January 2017, the Emergency Food Pantry has already provided approximately 1,225 food packages totaling 33,335 pounds of food to economically challenged families. Each package is designed to provide a family with three to four days' worth of food.
Although there are no restrictions on perishable food items there are quality checks conducted to ensure the food is safe for distribution. "Pretty much anything goes as far as donations but please use common sense," Skenandore said. "If it's no good please don't drop it off because we'll just end up tossing it."
Donation boxes can be found throughout the Oneida Nation at various locations. There are boxes at the Main Casino, the Radisson Hotel & Conference Center, the Wingate Hotel, each the Oneida libraries, multiple One Stops, Bay Bank, and the Skenandoah Complex.
As the pantry's operations continue to grow, so does the need for community support. "I would really like to get a nice pool of volunteers," Skenandore said. "We have a few projects we'd like to get moving on in addition to assisting with our regular operations. Just this past November we brought in 8,000 pounds of donations and we have to count, weigh, and inventory all of it and we don't want to overburden the volunteers we already have. So any help that anybody is able to provide us with is absolutely appreciated and would be most helpful."
For anybody interested in volunteering to assist the pantry please contact Marlon Skenandore at (920) 869-6165 or email him at mskenan1@oneidanation.org.
If anybody is in need of emergency food pantry services please contact Economic Support at the Oneida Social Services building at (920) 490-3710. There is a short application process and a response will be given almost immediately.