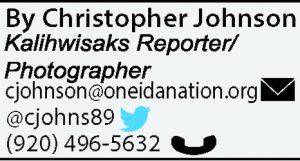 Oneida Nation High School Lady Thunderhawks basketball coach Jamie Betters is excited about the youth talent surrounding this year's squad. Betters, now entering her ninth season as head coach, say this team has the potential to make a splash in the Marinette & Oconto (M&O) Conference even though there are no seniors on the roster.
"We're pretty excited for the season," Betters said. "We have two main juniors who will be leading us this season and we've had some ladies that have transferred in from other schools. Add the solid crop of incoming freshmen and sophomores to the mix and we have the makings of a competitive team this year."
Betters will rely on the experience of junior forwards Yelih Rodriquez and Tiara Barber to lead this young T-Hawks team into a promising season. "Both of these ladies have been with us since they were freshmen," Betters said. "Both of them have also been with us since our team entered M&O Conference play so they are familiar with our conference competition and they both show and exemplify what leadership is.
Rodriguez, coming off her First-Team All M&O Conference performance last season, is expected to be a team leader this year at the forward position. "I'm looking to bring my game outside the paint this year," Rodriguez said. "Last season most of my points were from inside the paint but this year I'm really working on my shots. Last year as a team we were really close but this season we want to make it past the first game of regionals and part of that comes with team chemistry. A few of us have been playing together for a while so we want to get everybody else on the same page chemistry-wise."
Barber, also a forward, will also be relied upon to provide leadership for the younger Thunderhawks as well while she continues to improve her game. "I'm definitely going to continue working on my defense as well as driving," Barber said. "I will also be more vocal and try to get the younger girls into the mix. We almost made it past regionals last season so that's definitely the goal this year. We wouldn't be able to play the way we do without our fan support so please keep that going this year."
Sophomore Amelia Jacobs, a transfer player from Seymour, has also been named a team captain and may bring some spark to the Lady T-Hawks on offense. "I'm really looking forward to playing with my friends this season," Jacobs said. "I'm a pretty competitive player so I need to work on keeping my emotions in check on the floor. But we're a talented team so we should be able to make it to state this year."
With Peshtigo High School's recent switch from the M&O to the Packerland Conference, Oneida sees a golden opportunity to make headway in the conference. "Peshtigo had been our top competition," Betters said. "They'd been winning the conference year after year so now it's anybody's ball game this season as far as the M&O conference goes."
With a roster full of young talent, Betters is optimistic for what this season will bring. "It's good to be in this situation because now we have players ready to get in the action," Betters said. "We never use the expression 'bench player' because we need all of our players to go in at a moment's notice. Sometimes it's actually tough to name the starting five when we know we have another four back there that could be potential starters. We're just very excited about what our future holds this year as a contender because we absolutely expect to compete for a high seed."