The new Oneida Four Paths location will open for business following the ribbon cutting at noon on December 15th. Four Paths is the former Grand Central Station located at 2597 W. Mason St. Green Bay, WI. The new gas station will offer many of the same great benefits as Oneida One Stop but with some additional features.

What's in "store" when this location opens: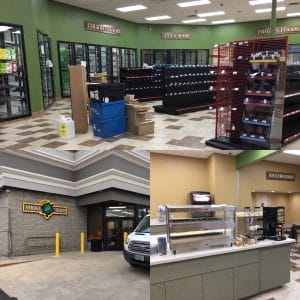 Same great service as an Oneida One Stop or Smoke Shop
Shell brand, with high standards of performance
Fuel rewards, gold status offers $.05 per gallon savings every day
Fresh food offerings: Nachos, warm sandwiches, hot dogs, pizza, soups and more!
Cold beverages, hot coffee, dairy, beer, frozen foods
New and improved camera system
Brand new car wash
Tax exempt with Tribal ID

Preparation is in full swing and shelved are being stocked. We look forward to the new store opening and we hope that you enjoy it! Check out some behind the scenes photos of Four Paths.

3 Responses to Four Paths to Open December 15th
John Padron says: December 8, 2017 at 4:50 pm

I've always felt that this is a prime location glad it was finally acquired it will be a welcome addition for Oneida enterprise!
Apache says: December 11, 2017 at 3:34 am

Great blog guys!!!
Linda beckers says: December 16, 2017 at 7:40 am

Look forward to visit new location