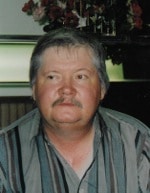 July 10, 1956 – November 19, 2017
William R. VandenBloomer, age 61 of Mountain, passed away on Sunday, November 19, 2017 after a lengthy illness.  He was born July 10, 1956 to the late Elmer and Donna (Smith) VandenBloomer and was raised in Oneida.  Bill married Brenda Neshek on March 31, 1978 in Black Creek.  For many years, Bill was self-employed.  Bill greatly enjoyed fishing and the outdoors.
William is survived by his wife, Brenda; daughters, Billie Jo, Lisa (Clyde), and Laura; 8 grandchildren, Kristia, Elijah, Logan, Lance, Nolan, Breanna, Bella, and Delilah; 1 great-grandchild, Kaden; 3 brothers, Butch, Jeff (Tina), and Mike; 7 sisters, Bonnie, Colleen, Tina (Jim), Vickie, Lynn, LuAnn, and Becky (Bill); 2 brothers-in-law, Steve Neshek and Bruce (Bonnie) Neshek.  He is further survived by numerous nieces, nephews, other relatives and friends.
He was preceded in death by his parents; mother-in-law and father-in-law, Viola and Harold; a sister, Kim; 2 brothers-in-law, Duane Krueger and Pat Ward.
Visitation was held on Saturday, November 25, 2017 at Gruetzmacher Funeral Home in Suring from 10:00 am until the funeral service at 12 pm with Pastor Bill Krauss officiating.  Interment followed the service at Mountain Cemetery.  Online condolences can be expressed at www.gruetzmacherfuneralhome.com.
A special thank you to the staff's of Unity Hospice and St. Vincent Hospital in Green Bay for the care and compassion offered to Bill and his family in their time of need.
In lieu of flowers, a memorial fund has been established.