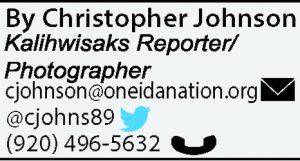 Utica College senior, and Oneida Nation citizen, Brickman House is about to call it a collegiate career after playing four seasons of NCAA lacrosse for the Pioneers. To cap off his senior season House, 22, was recently given the school's Ben Mack Award for being the team's Offensive Most Valuable Player (MVP). He is also completing his final two classes before graduating from Utica this December with a Bachelor of Science degree in Business Management.
A multi-sport athletic star who graduated from Pulaski High School in 2013, House says his love for the game of lacrosse started at a young age. "I grew up playing with my dad a lot," House said during a recent Kalihwisaks interview. "I also played with other kids like Kendrick Powless, Bradley Granquist, and so many others who really helped me keep going with the game because we were just having so much fun. I enjoyed lacrosse more than any other sport.
"When I was younger my dad took me to tournament out east," House said. "I was astounded by the level of play out there. Those guys were insane and I had never seen anybody play like that before. The game was so fast and that was really the 'x-factor' in getting me interested in what was going on out in New York."
Brendan Shook, a former professional lacrosse player who now travels the country to bring the game to various Native reservations, spotted House at a lacrosse camp in Oneida and immediately recognized his talent. He invited House to a Max Elite camp in Ohio where he was eventually spotted by numerous college coaches and recruiters. More than 30 schools attempted to recruit House including Utica College.
Utica College, located in what is now central New York State in the heart of the traditional Iroquois homelands, is an institution that offers 40 undergraduate majors and 21 graduate programs. It also boasts 25 intercollegiate sports including lacrosse. "There were schools all over the nation available but I wanted to play in New York and going back to the homelands was perfect for me," House said.
"'Brick' is an outstanding young man," Utica Lacrosse head coach Mike Parnell said. "He is a perfect example of everything we preach here at Utica College. The emphasis for us is 'student first' and he was always a good Grade Point Average (GPA) guy. Fortunately, I had the opportunity to watch him at that tournament and we were able to convince him to come out east to play for us.
"As a freshman 'Brick' was scrappy, as most freshmen are, and was just trying to find his role on the team," Parnell said. "One of his best attributes is he was a very good passer and a hard working kid. He was always on time and did everything we asked of him and he just progressed each year and ended up having a very good career for us."
While his freshman and sophomore seasons didn't live up to House' personal expectations, all of that changed as his third year rolled around. "During the intra-squad scrimmage my freshman year I was playing second-line midfield and suffered a minor concussion," House said. "Everything just snowballed from there plus the fact that Utica had a solid team in front of me. It just wasn't the best year for me. But a few games into my junior season the offensive coordinator told me I was being moved to offensive attackman. That was where I was most comfortable although I have to admit there were some growing pains my junior year."
"His junior and senior seasons we moved him down to the attack position because he was one of the best passers we had," Parnell said. "And 'Brick' had a phenomenal year for us his senior season."
The addition of a Syracuse Orange transfer player prior to House' senior year solidified the Pioneers on offense as Utica enjoyed one of its most successful seasons in recent memory. "Last year was the most fun I have ever had playing lacrosse," House said. "The addition of that player and the fact that our entire attack line had a year of experience together was phenomenal because the chemistry we had was unparalleled to anything I've ever been a part of. We could just feel everything beginning to click."
House had also grown into a natural team leader in the locker room over his four year tenure at Utica. "When you first meet 'Brick' he's pretty quiet," Parnell said. "But when you get to know him he's got a little subtle, dry humor to him and you could see he was invested in the program over his last two years. He was definitely a leader, loved his teammates, loved to compete, and wanted to win."
All of these attributes culminated in House receiving his MVP award. "The Ben Mack MVP award goes to whoever leads the team in scoring or points," Parnell said. "'Brick' put together an outstanding senior campaign for us as our point guy. He finished his opportunities and was savvy around the crease and that's a matter of working hard in the weight room and being invested in the process here at Utica College."
"I can definitely admit that (Coach Parnell) certainly helped me throughout this whole time," House said. "I've enjoyed everything he's had to say and all the motivational things he's had to say about how to carry ourselves as good human beings."
"'Brick' is the perfect representation of what we want from our guys at Utica," Parnell said. "He's as fine a young man as you will ever meet and you should all be so proud of the young man that he's grown up to be. I tell all my guys when they come into this program that they're going to leave here as a man and 'Brick' is definitely going to be returning home as a man. He can handle any challenges that are going to come his way and we are so proud of him."
House wraps up his Utica College Lacrosse career with 59 goals, 42 assists, and 101 total points scored. He is the son of Susan House and Kenneth Metoxen of Oneida.