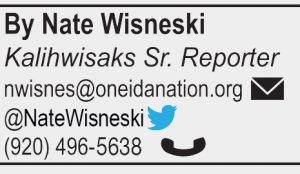 Seymour standout Hailey Oskey has made her commitment to the University of Wisconsin – Green Bay official. Oskey signed her National Letter of Intent on Thursday, November 9. Oskey verbally committed to UWGB in 2015.
Oskey, Seymour High School's leading scorer, has been named First – Team All – Bay Conference every season since her freshman year. She also was named to the AP Honorable Mention All – State team in last season.
Seymour Head Coach Bobby Kuchta raves about Oskey's ability.
"She's a leader that leads by example. Her work ethic is outstanding and because of that she is (able to play at UWGB). She's an outstanding role model for the kids in the program," said Kuchta. " She is coachable and at the same time with the success she's had she's a really humble person."
UWGB Head Coach Kevin Borseth is excited to add Oskey to his roster.
"We have had the good fortune of watching Hailey grow for the past three years. And grow she has. From day one we knew Hailey was going to be special. Hailey possesses a threat from the outside with deadly shooting and over the course of time has developed a slashing element to her game that makes her extremely dangerous," said Borseth. "She also has length and good feet on the defensive end which adds to her talents. All this and the fact that Hailey is right in our backyard makes her a perfect fit. We are extremely excited to have Hailey as a part of the Phoenix. Our fans will enjoy watching her play."
Oskey shares in Borseth's excitement and is eager to play close to home.
"I've been talking to Green Bay since eighth grade, so I've always been very interested in the program. Being able to go to all their home games that were 20 minutes away was such a nice thing for me, I was able to experience everything at a closer look, which made it an easy choice. Their coaching staff is very fun, supportive and knows so much about the game of basketball. They're obviously a big reason in my choice to attend the University because I want to be able to experience and learn so many new things about basketball, and I know they will help make that happen."