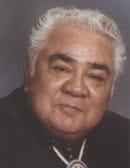 Frank E. Skenandore, 76, of Oneida, passed away unexpectedly Sunday, October 22, 2017, at St. Mary's hospital. He was born March 18, 1941, son of the late Edward and Electa (Skenandore) Skenandore. On August 25, 1962, he was united in marriage to Yvonne Danforth. She preceded him in death November 8, 2002.
Frank was a member of the Oneida Methodist Church, the Men's Club, Dart Ball, and he was known for his favorite corn soup and booyah. He enjoyed playing Bingo and was an avid Packer fan.
Frank was employed by Appleton Machine, as a welder fitter for many years, until his retirement.
He is survived by his four daughters: Carolyn (Rendell) Miller, Green Bay; Samantha (Emmett) Skenandore, Green Bay; Francine (Donald) Weaver, Las Vegas; and Tina (Daniel Sr.) Jourdan, Oneida; one daughter-in-law, Patricia Denny, De Pere; 14 grandchildren; 13 great-grandchildren; two brothers, Harvey (Pat) Skenandore and Edward (Beverly) Skenandore; two sisters, Lorraine Skenandore and Elizabeth Nicholas; a special nephew Kenneth Skenandore; many nieces and nephews.
He is preceded in death by a son, Jeffery.
Friends may call at Muehl-Boettcher Funeral Home, Seymour on Thursday, October 26, 2017 from 4-8 pm. Visitation will continue on Friday, October 27, 2017, at Oneida Methodist Church from 9:30 am until services at 11:00 am with Pastor Dongsu Lee officiating. Burial will take place in the Oneida Methodist cemetery. Online condolences may be expressed at www.muehlboettcher.com
A special thank you to St. Mary's ER Center and, the Brown County Police.