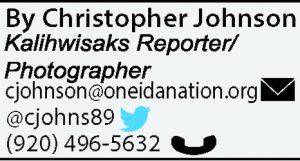 As awareness of the opioid epidemic on the Oneida Nation Reservation steadily increases, and the tribe's leadership having recently declared a State of Emergency to combat the growing problem, one local group of concerned tribal members is gearing up to tackle the issue head-on.
The group, known as 'Enough is Enough,' is conducting a 30 Day Sacred Fire that commenced on Sunday, Oct. 15, in conjunction with several other native nations at the same time in a show of unity in the fight against the opioid crisis across Indian Country. October 15 was also declared a Community Prayer Day by Oneida officials. The fire is expected to remain lit through Nov. 15 at W142 Hwy 54 in Oneida. The group also conducted walks through several Oneida neighborhoods that day to raise awareness of the growing crisis and garner support for their plans to deal with the deadly problem.
"We're issuing a call to action and asking people to get their heads out of the sand," Dorothy Ninham, a leading member of 'Enough is Enough,' said. "There are a lot of kids out here that are suffering and a lot of parents who are losing their children to this because they're overdosing. We're saying enough is enough because one more is one too many."
For many the abuse of prescription opiates or heroin is often rooted in emotional pain, said Kermit Valentino, another member of 'Enough is Enough.' "It's all an escape from reality," Valentino said. "It's hard enough for our children to have to come up and struggle and then to have this thrown on top of it. It's really sad to have young people, children especially, have to see this, grow up around this, and then the only way they're going to deal with this is to turn to drugs themselves unless there is somebody there to help guide them through it. I believe that our traditions and our culture are going to be what helps the most."
Educating the community about the hazards of prescription opiates and heroin on a grassroots level is the first step in the fight against this increasing problem, Valentino said. "If we're going to make any kind of stand against this we have to do it now," Valentino said. "We have to get the education out there for the people that are living in fear of this, the neighbors, the extended families, the people who have to live with knowing what's going on but can't do anything about it because they can't do it by themselves.
"The people who live in our various sites know who is who," Valentino said. "If they want to get involved with this that's great because we want them to know they are not alone in this. We want them to join with us to let the dealers know that we don't want this in our community anymore. We don't hate the addicts that are using this stuff, but we hate the drug and we want it out of our community because we're having a hard enough time as it is with raising our kids and our families."
Some in the community feel that the crisis has hit the Oneida Nation's youth harder than any other age demographic. "This epidemic struck our family a few years ago," Geronimo Powless, another founding member of 'Enough is Enough,' said. "I heard all the lies and the deceit that came with it so I decided to learn more about it. In talking with some young people I was shocked to learn that so many were using heroin, and one told me that he didn't know anybody in his age group of 17-21 that wasn't using heroin, popping pills, or smoking weed. Everybody he knew was on something and that was very shocking to me."
The idea for the 30 Day Fire came from a young lady recovering from heroin addiction in North Dakota, Powless said. "She came up with the idea to start the spiritual fire," Powless said. "It's set for 30 days to bring awareness and some healing for the youth as well as unite numerous tribes from across the country in this battle and they will be doing this at the same time we are."
Some of the other initiatives 'Enough is Enough' are pursuing is a Freedom House-style location where people struggling with addiction can go to at any time to seek help as well as a location where people can detox. These ideas came about due to mounting community frustrations with the length of time it can take for an addict to receive the timely treatment they need, Powless said.
"We keep hearing the same stories," Powless said. "People wanted to get somebody into treatment but were told it would take two weeks to get them in for an assessment. So they'd go to the assessment but then are told to come back again in two weeks. It's frustrating for the people directly involved when these kids are under the influence of heroin because they need help now and can't wait two weeks or a month.
"The state of Wisconsin doesn't have a place for these kids to detox because none of these treatment facilities will allow anybody in until they detox," Powless said. "With heroin it could take two or three weeks to detox and in many cases that's simply not possible with the supervision they need."
"The Freedom House will be where somebody who is feeling the need to use can go 24/7 to talk to somebody," Ninham said. "And then the detox center will be here in state because our kids, and all addicts, need community support. We're still in the planning stages of these initiatives but we're in the process of receiving funding for them. We need to make this process as easy as we can for people without a lot of red tape.
"We have to be responsible and accountable to our children because if we aren't who will be," Ninham said. "We have to put the footprints down for them to follow. We can't just put them out there and let them flounder and hope they make it because that isn't going to happen. I think this is going to bring our community together because there's a lot of pain out there so hopefully people will come together and support this issue so we carry this load together. Nobody can carry it alone."
To find out how to assist with the sacred fire, volunteer, or make donations to 'Enough is Enough' contact Geronimo at (920) 662-3065 or Francine at (920) 615-8248.