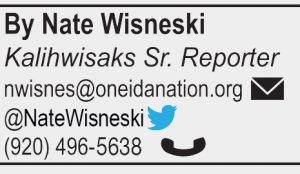 Chairman Tehassi Hill's tenure has featured shorter General Tribal Council (GTC) meetings and the fiscal year 2018 budget meeting was no exception.
The GTC quickly moved past the Health Board portion of the agenda by leaving it on the table and taking no action.
That allowed the GTC to focus on the FY2018 budget.
The tribal budget presentation featured two reports from the Office of Intergovernmental Affairs and Communications. The report highlighted the social and economic demographics of Oneida Nation citizens. The second report was from Development Division. The second report focused on the nation's position regarding development and housing opportunities to the nation.
The reports were informational only and no action was needed.
Then, the GTC dug into the proposed budget after presentations from Finance area.
Housing and land took center stage of the budget discussion. The GTC felt the budget needed more direction regarding land purchases so an amendment was passed directing 75 percent of the land acquisition budget be marked for residential use. The amendment also called for the reinstatement of the $500 amount per a requestor for the Community Fund.
Shortly after, the GTC passed the FY2018 budget.
The meeting was called to order at 10 a.m. and adjourned at 11:50 a.m.
The next GTC meeting is scheduled for Sunday, November 12. Oneida citizens are being asked to arrive early as a bag-check policy will be implemented.