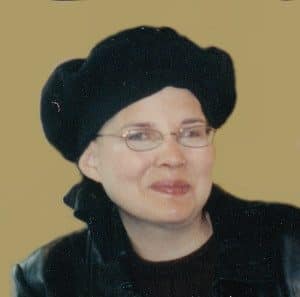 Catherine Arndt, 44, Green Bay, died Monday, October 9, 2017. She was born on April 20, 1973, in Green Bay to George and Suzanne (Grosse) Arndt.
Cathy was the second youngest of her nine brothers and sisters. She spent her youth running through the fields and catching grasshoppers, exploring the woods and building forts, playing in the creek near her home, especially enjoying picking marsh marigolds for mom and grandma, catching fish and tadpoles, digging in the window wells looking for toads, and an occasional mud fight with her brothers and sisters.
She was always sweet and happy, and even when tragedy struck and she lost her mother at age four, she remained loving and resilient.
Cathy was tough, stubborn and courageous, but we know she had to be in order to endure her over-30-year battle that began in the spring of 1986 with her diagnosis of brain cancer. The initial diagnosis was terrifying but the subsequent battles over the next three decades were merciless.  She fought these battles with dignity, fearlessness and perseverance, never accepting defeat.  Even in her darkest moments, she maintained her sense of humor and wit, making us laugh when we needed it the most.  Cathy taught us no matter how rough life gets, get up, dust yourself off, and get busy living!
Cathy was generous, bright, clever, and sharp-witted. These characteristics shone through both in good and bad times.  Cathy was nostalgic and loved to reminisce, reminding us all of childhood memories.  Being a jokester, she was known to send gag birthday cards, even sending the same card three years in a row to get her point across.  She especially enjoyed crossword puzzles, Sudoku, jigsaw puzzles, and Solitaire.  She collected turtles and frogs.  Cathy enjoyed drawing and spent hours drawing with her nieces and nephews.  Cathy had a special love for dogs especially her black lab "Sid Man".  We can see her crossing into eternal life to be with her cherished Sid.
She deeply loved her Catholic faith and praying the rosary. She loved her family.  She had a tremendous love for the Green Bay Packers.
Cathy's greatest joy in life was doting on and spending time with her eleven nieces and nephews: Andrew (fiancée, Claire Thiel), Erika, Dillon, Michaela (confirmation name Catherine chosen for her aunt), Jayden, Jake, Vincent, Lucy, Patrick, Jude, and Autumn Catherine (her namesake). Each child held a special place in her heart.  Cathy spent months planning for holiday and birthday gifts for each one.
Cathy was the most spectacular babysitter for Andrew, Erika, Dillon, and Michaela while they were growing up. She instilled a deep love in them for her and left them with memories of her fun-loving spirit and sense of joy.  A special memory for Michaela was her daily wagon ride with Aunt Cathy, stopping for a donut, visiting the pet shop, and going to the park.
Cathy is survived by her siblings: Marty Arndt, Mike Arndt, Mary Arndt, Tony Arndt, Jerry (Sara) Arndt, Angie (Jay Khitha) Arndt, Jim (Tara) Arndt, Matt Arndt (Caryn Glover), Georgie (Mike) Hazuka; as well as other relatives and friends.
She was preceded in death by her parents; and her grandparents, Giles and Margaret Grosse, Fred and Margaret Arndt.
We were privileged to witness this courageous and beautiful human being's soul leave her body. Her transformation from body to Heaven complete, she has found eternal peace and is now in the care of the Lord.
Friends may call at Blaney Funeral Home, 1521 Shawano Ave., Thursday, October 12, (TODAY) from 5 to 7 p.m., followed by a Parish Wake Service at 7 p.m. Visitation will continue at St. Agnes Catholic Church, 1484 Ninth St., from 9:30 to 10:30 a.m. Friday, October 13. The Mass of Christian Burial will be held at 10:30 a.m. Friday at the church with Rev. Patrick C. Beno officiating. To send online condolences, please go to www.BlaneyFuneralHome.com.
In lieu of flowers, memorials may be directed to St. Jude's Children's Hospital in Cathy's name.
The family extends sincere gratitude to Dr. Gardon and the ICU staff at Aurora BayCare Medical Center, as well as a special thank you to Dr. Shah for guiding us through a difficult time.